TIN SWIFT Blog Tour
Ready for another week of steampunk fun?
Chapter five of TIN SWIFT's prequel short story, HANG FIRE is out today!  You can read the next exciting installment and enter to win steampunk goodies, including a copy of TIN SWIFT and a handmade airship bookmark! Just click on the links below. There will be one winner per blog, so you have plenty of chances to win. 🙂
Chapter Five: A Book Obsession
Chapter Three: Tote Bag 'n' Blogs
Chapter One: Candace's Book Blog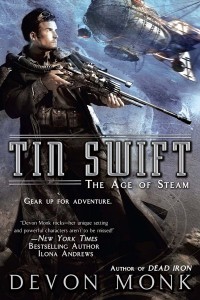 ****************
Other Excellent Things
I did tackle that knitting project this weekend! I designed and began knitting a steampunk fingerless glove pattern. After a lot of trial and error, and much ripping out of stitches, I am pretty happy with how the first glove turned out. I'll get the next glove done this week, and will hopefully send them off to my fellow steampunk author, Tiffany Trent.
My sister and I also finally took a weekend at the coast together as a much belated birthday gift to each other. We had a wonderful time. Here's a picture of me in our hotel room, window open, knitting in the sunlight, while watching the ocean roll. Pure bliss.