TIN SWIFT Blog Tour
Gears! Guns! Danger! TIN SWIFT will be out in just twelve days.  But if you'd like a little steampunk to hold you over until the book is out, why not give the next exciting chapter of TIN SWIFT's prequel short story, HANG FIRE a try?  Just click away to these fine blogs, read the next installment, and enter to win steampunk goodies.
Chapter Three: Tote Bag 'n' Blogs
Chapter One: Candace's Book Blog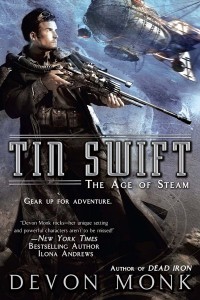 ***********
Other Excellent Things
Book clubs.
I am a member of the book club that my wonderful sister-in-law founded. I have never been in a book club before, so the entire experience was new to me.  The club has been going strong for a couple years now, and I have to say I love it!  We all have very different tastes in the kind of books we like, but we all share this common quirk: we love exploring new things.
Our book club gives all genres and categories a try, and each of us has been surprised at some of the types of books we've liked.  It is not unusual for one of us to say: "I never would have picked up this book to read (or buy) but I really enjoyed it, and I'll try more like this."
Even though I'm a writer and I try to read widely, when left to my own devices, I tend to gravitate toward my favorite genres and can get stuck in a reading rut.  The book club is a great reminder that story comes in hundreds of different packages and forms, and trying out something new every once in a while can be an awful lot of fun!
How about you? Have you ever joined a book club? Have you ever tried an unfamiliar genre or book and been surprised that you like it?