Today's the day! The TIN SWIFT Blog Tour has begun!
To start the tour,go to today's blog: Candace's Book Blog.…
…and read the first chapter of the new, original, never-before-seen short story and prelude to TIN SWIFT:

You can enter to win this excellent prize package:

One winner per blog. Hope to see you there!
****
For the next month or so, you'll see an announcement and growing list of blogs at the beginning of my posts, which will hopefully get you to all the blogs and, if you follow them in order, will let you read the entire short story, HANG FIRE, which takes place between book 1 DEAD IRON and book 2 TIN SWIFT in the Age of Steam series.
I'll also add a little note here at the bottom of the post about other things that are going on with writing, life, and all such excellent things.
Today's excellent thing is the new BBC series SHERLOCK.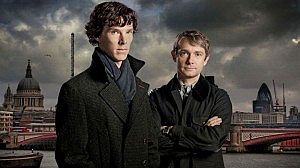 I have fallen head-over-penny-loafers in love with this series!  I am enjoying it so much, I bought the DVDs! (To tell you what a monumental event that is, the last series DVD I bought was PUSHING DAISIES. The one before that was FIREFLY.) Apparently my DVD-level love is difficult to earn and sparingly bestowed.