Winners
The big non-US giveaway of five sets of five signed Allie Beckstrom books (the *lovely* UK release)  is done!  If I don't hear from the winners in a week, I will be drawing new names. Winners, please contact me via the little envelope button on the corner of my blog Here.

Winners are:
 SURI, who said: WOW WOW WEEEEEE……I love it! Signed give away, YAY! Thank you

SARAH WEST, who said: I really love your books! I have read all of them! It would be amazing to get signed copies!
ANNABELLE H., who said: Argh, This is so awesome! Thank you so much! I would love to enter. I'm fron the UK!
CASSANDRA FAITH who said: I would literally cry if I won even a glance :') Been hooked on the series for a few years now, so happy you're doing this competition as I'm from Australia and am lucky to see a celebrities' finger. You've got the magic in you, good luck to everyone x
IAN who said: OK, only just found out about the books. Gonna buy the first Allie Beckstrom book on Kobo. Would be great to get the whole shebang signed and in print!
Bookcat
Things have been pretty busy lately, but I managed to fit in a little knitting time. What did I come up with?
Well…my best friend told me she needed a weight to hold books open while she cooks or eats. She went on to list an alarming array of things she has employed to keep those pages open, including knives, bananas, and staplers.
My solution? Cheshire Bookcat: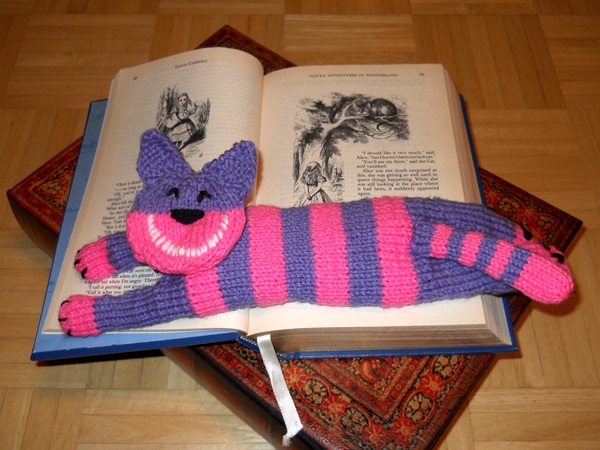 Cheshire Bookcat is really the "Cat bookmark" pattern by Twins.  You can find that here.
But instead of making a flat bookmark, I filled him with decorative beads. Um…these:
That makes him plenty heavy enough to keep those pesky pages open.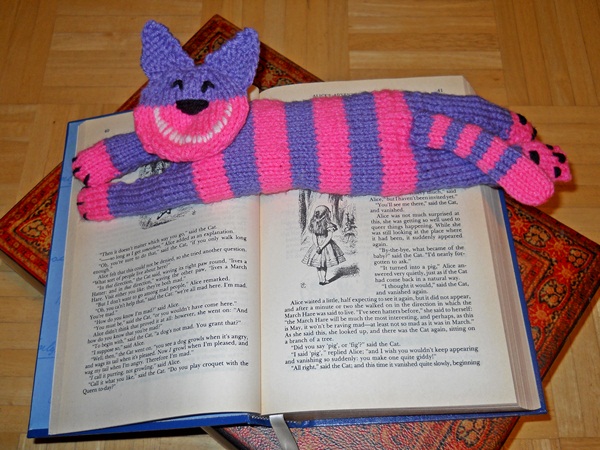 He really is just a test knit, to see if weighting and size works.  Next time I will make him with smaller needles so his body doesn't cover up quite so much text (especially with paperbacks).  And if I can find it….I think I'll try some glow-in-the-dark yarn for his stripes and smile. 🙂
Details: Red Heart acrylic yarn in stash. Size 4 (US) needles. Knit flat.