Hello there! Here are a couple places I'm posting today: Over on
Amazon UK Kindle Posts
, I talk about MAGIC WITHOUT MERCY and how being directionally-challenged might actually be a *good* thing. On the
Deadline Dames
, I talk about procrastination and writing. Hmm....doesn't seem like quite enough content for a blog, so I shall talk about the ghost forest my family and I visited on Sunday! This is Neskowin Beach, Oregon, about an hour and a half drive from my front door.  Back in 1998, an estimated 200 trees, which lived somewhere between 1,700 and 2,000 years ago, rose up out of the sand after a particularly stormy winter.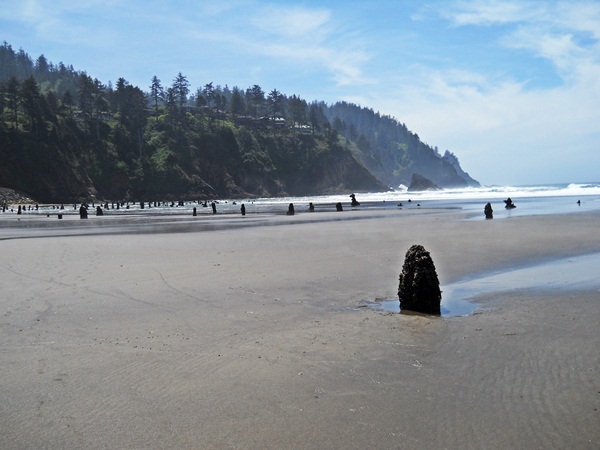 They are Sitka spruce trees, and were once a forest of trees growing upwards of 150 feet tall.  Now they are called the Ghost Forest of Neskowin, and are buried, still standing with their roots in the soil they once grew in, the exposed tops of the trees covered in barnacles and other sea creatures, while the ocean washes around them.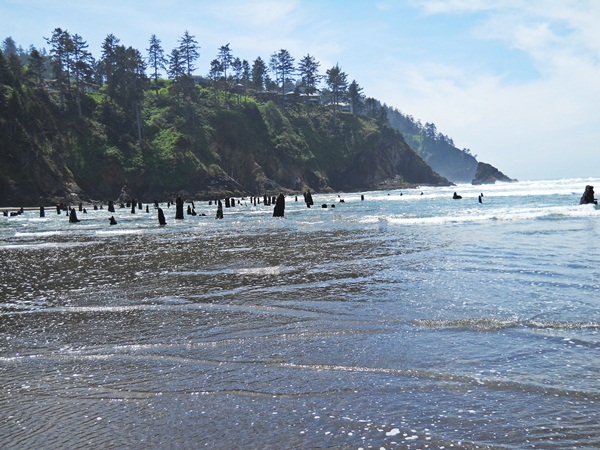 How did the trees come to be standing in the ocean? It is suspected that over a thousand years ago, an earthquake covered them in sand, preserving them, and turning them into ghosts we now see.
Here's a link to an article
if you want to know more about the ghost trees. We walked all the way to the end of the south beach, and stopped against the cliff wall (seen in above photos) there. Here's a picture I took while standing against the cliff, looking north. Those are rocks in the foreground, but in the background are the ghost trees, and beyond them, Proposal Rock.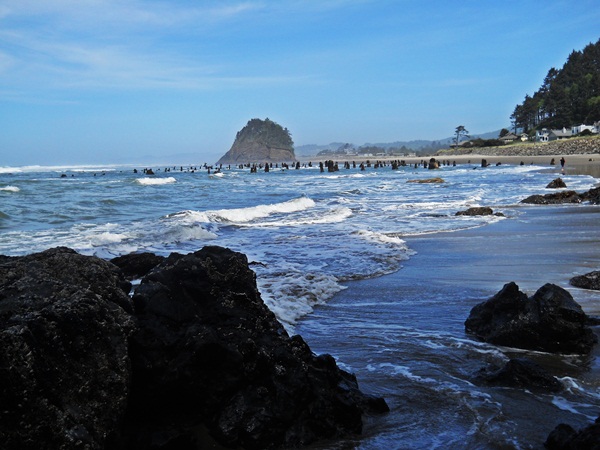 After that, we drove north. There is a sign beside the very twisty road that says "Do Not Stop In Road". It is clear why they had to post the sign.  Here's the view from the road: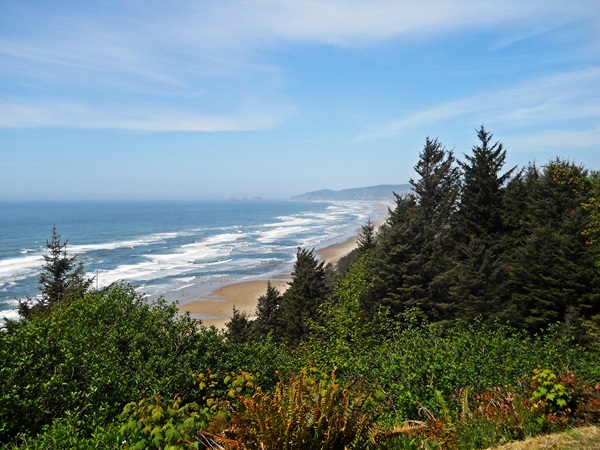 No photo-snapping automobile accidents were caused by this photo. We obeyed the sign and pulled off at an approved viewpoint. Pretty lovely, isn't it? 🙂