Edited to add*:
WINNERS

Thursday: SURI, who said: WOW WOW WEEEEEE……I love it! Signed give away, YAY! Thank you

Friday: SARAH WEST, who said: I really love your books! I have read all of them! It would be amazing to get signed copies!
Saturday: ANNABELLE H., who said: Argh, This is so awesome! Thank you so much! I would love to enter. I'm fron the UK!
Sunday: CASSANDRA FAITH who said: I would literally cry if I won even a glance :') Been hooked on the series for a few years now, so happy you're doing this competition as I'm from Australia and am lucky to see a celebrities' finger. You've got the magic in you, good luck to everyone x
Monday: IAN who said: OK, only just found out about the books. Gonna buy the first Allie Beckstrom book on Kobo. Would be great to get the whole shebang signed and in print!
*winners, please send me your mailing address by clicking on the little envelope button in the upper corner of my blog.  Thank you!
Ah-ha!  NOW I can do a big ol' giveaway!  In celebration of MAGIC IN THE SHADOWS, MAGIC ON THE STORM, and MAGIC WITHOUT MERCY coming out in the UK, I am giving away 5 (five) signed "sets" of all three books.
But wait! There's more! I am also giving away 5 (five) signed copies of the UK release of MAGIC TO THE BONE and MAGIC IN THE BLOOD in the set.
Want to see what five sets of five titles looks like?  Ta-da!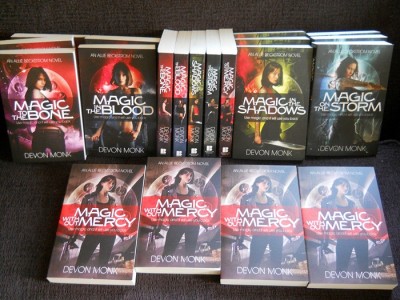 This giveaway is only open to people NOT in the US. (Sorry US folks. I plan to do many more US giveaways in the future, don't worry.)
Here's how it's going to work.  If you live anywhere except in the USA, leave a comment here on my blog (comments on Facebook, Twitter, LiveJournal, or any other spot my blog is mirrored won't count, because I am easily confused and will lose track of them.)
I will pull ONE WINNER EACH DAY.  That means I'll draw a name today (Thursday, PST before midnight) and another winner Friday, Saturday, Sunday, Monday. You only need to leave one comment.  I will draw a random number from all the comments each time I pick a winner. 🙂
If I don't hear back from winners after one week, I will re-draw names.
That's it!  Good luck, and don't forget to check back here to see if you've won!