Signing:
My signing at
Readers Guide
in West Salem last week was a lot of fun!  Thank you, readers for stopping in and picking up a book (or two!) and for hanging out to talk with me.  I had a great time. I left an advanced review copy of Tin Swift there, and the bookstore owner, Jenn is going to pull a winner on the last day of April.  So if you get a chance, head into the store, drop your name in the jar, and hopefully, you will be the lucky winner of Tin Swift!
Next Signing:
The Book Bin
- Salem, Oregon Friday, April 27th at 7:00pm I will be giving away the LAST advance review copy of Tin Swift at this signing.  I hope to see some of you there!
MAGIC WITHOUT MERCY RELEASE IN THE UK
Yes! We are getting so close to the UK release date for Magic Without Mercy!  And this release is going to be a doozy!  Mark your calendars for
May 10th
, when not only book #8 MAGIC WITHOUT MERCY will be on the shelves, but also books #3 and #4, MAGIC IN THE SHADOWS and MAGIC ON THE STORM will be out! Here are the awesome covers: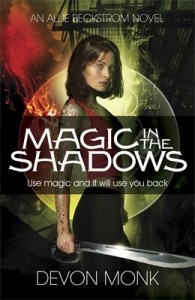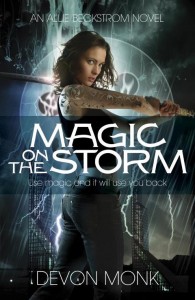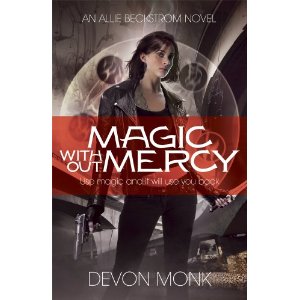 I absolutely LOVE the redesign on these covers!  Thank you, Berkley UK, for making Allie look so good!
Writing News:
I was given a chance to take an extra week on revisions for MAGIC FOR A PRICE.  That week allowed me to read through the entire book, fiddle with some things and add in a few scenes I thought might make the book even stronger.  I ended up adding a few thousand words and cutting out a good chunk of words too. Yesterday, I turned it in to my editor.  If she gives it the thumbs up, I will next see the book for copy edits, then proofs.  And then Allie Beckstrom's journey will be done. This is not to say I don't have some other projects up my sleeve.  As soon as I get word that I can share THAT news, I will certainly do so. 🙂