Reminder:
TONIGHT: I will be at Powell's Books, Cedar Hills Crossing in Beaverton, Oregon
7:00 pm  to sign books and give away an advanced copy of TIN SWIFT
Hope to see some of you there!
Emerald City Comic Con
A couple days ago, I said I'd write a blog about my first comic con…Emerald City Comic Con, which I (and my best friend, my sons, and five of their friends) attended on the last weekend of March.  Here are the questions I said I'd answer.  I'll start with the first today.
What famous star shared an elevator with us?
Where did my car break down leaving me, and the half-dozen people who had caught a ride with me, stranded?
Is Darth Vader playing bagpipes while riding a unicycle as cool as it sounds?
Famous Star:
This one needs a little set up: My son, his friend, my best friend and I gamely sat through 45 minutes of karaoke, trivia contests, and false starts waiting for the costume contest to get underway Saturday night.  Since I was under a writing deadline that had landed in my lap at the last minute, I didn't feel like losing more writing time waiting for the show. (The ninja who broke out into spontaneous dancing in the audience was, however, fabulous!)
So here's me: tired, cranky, stress zit in the middle of my cheek, makeup rubbed off, hat on head because hair is stupid, disappointed from the non-costume contest.
Here's the others with me: Best Friend–tired, but happy from a day spent sitting through a marathon of panels.  Son and Friend–Cool, calm, chillax after a fun day.
We head back to our hotel. It's late. Hardly anyone in the lobby.  I'm thinking about the work I should be doing (i.e. am distracted).  I see a man waiting at the elevators.  We are a short distance off, when the elevator "bings."
"There's one now," I say happily. We jog for it.
Man at the elevator glances at us, startled.  He spins so that his back is facing us and sort of tips his head down.  Then he seems to decide something, gets in elevator and holds the door open with his arm.  We each say "thank you" as we step into the elevator, and he (maybe a little surprised) says "you're welcome" back to each of us.
Scene: Man to my right facing bank of buttons.  Me at the left facing the other bank of buttons.  Best friend in back corner behind man.  Son in back corner behind me.  Son's friend in middle against back wall.
I wonder why the man hasn't punched the button for his floor yet.  His finger is hovering, but not pushing.  "Odd," I think.  No worries, I press our floor: 26.  Out of the corner of my eye I see his finger slide down to the 2-3 range, then his shoulders slump and he pushes his floor: 21.
We are now in for a long-(ish) ride together.
He turns away from the buttons and sort of faces me, but is kind of looking down too.  I (distracted) am staring at his t-shirt trying to figure out what comic cover is printed on it.  The shirt is green "Green Lantern!" I think…but no…that's not green lantern.  I do notice the man is very fit and think, "geez, this guy must work out" followed by, "I really ought to start working out more."  Still can't figure out the cover on his shirt.
"You guys having a good convention?" the man asks.  His voice is nice.  Kind of familiar.
My son who is a very gregarious guy and never drops a conversation cue, is dead silent.  "Strange," says my distracted mind.
Best Friend, happily: "I think this is the first time I've been back to the hotel all day!"
Me, picking up conversation cue and glancing over at my friend: "And that's how you know it's been a good con."
I think about telling the man the only thing so far I hadn't liked was the costume contest that was so delayed, and then I notice he has one of those special badges on.  I keep my mouth shut because what if he's one of the people coordinating the event? I don't want to complain when I'm sure they were doing the best they could to keep the con running smoothly.
A little more silence my best friend fills with a comment about how this one elevator seems to shake more, and me adding a lame comment on us plummeting to our death.  Comment is lamer than usual because I'm still trying to figure out that t-shirt.  Green Arrow?  No.  It says THING, but the shirt is all green and doesn't have the Thing on it.  Swamp Thing maybe?
Door chimes.  We're on the 21st floor.  Distracted brain finally gives up on the maddening t-shirt.  I look away from his shirt.  And at his face.  Just as he says, "Well, goodnight."
And we all say, "Good night."
He steps through the doors….my distracted brain clicks everything together: voice, build, face.
The doors close…..
Oh. My. God.
Son blurts: "Do you know who that was?!"
And, suddenly, I knew!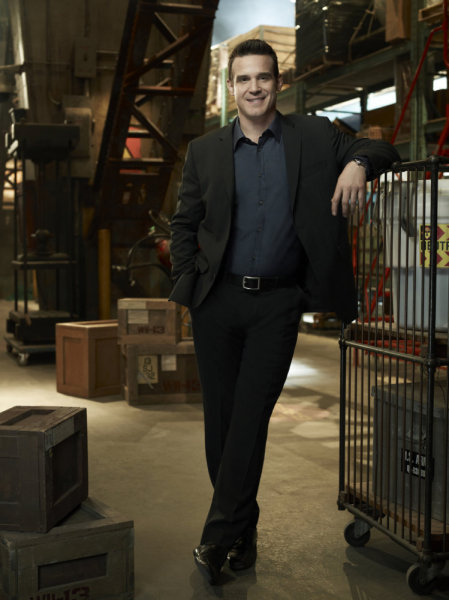 Yes, we had just shared an elevator with Eddie McClintock, Pete from Warehouse 13!
He was very nice, wears a t-shirt particularly well, and since we were all distracted (or in the case of my son, stunned) we did NOT fan-splode all over him, which maybe he appreciated.
I do wish I'd put two-and-two together faster and had at least told him that we loved his character on the show, and had thanked him for coming to the convention.
So, Eddie, if you're reading this: thank you for coming to Emerald City Comic Con.  We love your character on Warehouse 13!
–All best,
The stressed out, distracted, t-shirt staring lady from the elevator