Ask me any question at all, and I'll do my best to answer it either here on the blog in the next few days, or as a reply in comments.
To start us off, I'll answer a couple questions I've recently received in email:
1. Where is the audio version of MAGIC WITHOUT MERCY? When will it be out? 
I don't have an answer to this yet, but I am looking into whether or not we'll have an audio version of the book available.  As soon as I find out, I will let you know. (And thank you for asking! It's great to know there are a bunch of you out there enjoying the audio books!)
2. How many books are there in the Allie Beckstrom series?
Nine. MAGIC FOR A PRICE is #9 and will be out in November.
3. Why don't you post a picture of your dog?
Because I am a sucky photographer and every time I take a picture of him his ears go down and make him look sad.  But here's one I took through my office window a couple summers ago when he wasn't looking.
Mojo was a pound puppy, and no one wanted to adopt him because they were afraid he might be a Rottweiler. (He really looked like a Rottweiler when he was a pup, and was separated from his litter mates.  I don't know why.  He was the most docile little guy ever.) He is a sweet, kind boy who is, as far as we can tell, part Australian Shepard, mixed with collie or border collie.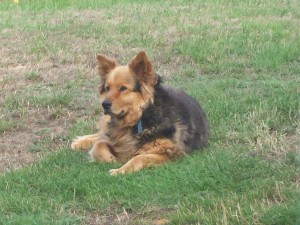 If you have a question, ask away!