I had a great time at Powell's Books on Tuesday!  Thank you, Powells staff–especially Peter–readers, and writers for coming out to see me, chat a little, and get some books signed.  You all rock!
My next signings will be:
April 18,  5:00-7:00 – Readers Guide to Recycled Literature
1105 Edgewater St. NW Salem, OR
I will be giving away one ARC of TIN SWIFT!
April 27, 7:00 – The Book Bin
450 Court Street, Salem, OR
I will be giving away my last ARC of TIN SWIFT!
Hope to see some of you at these great local independent stores!
Emerald City Comic Con 2
All right. I'm down to answering the last two questions I posed about my first-ever experience of attending Emerald City Comic Con.  The questions are:
Where did my car break down leaving me, and the half-dozen people who had caught a ride with me, stranded?
Is Darth Vader playing bagpipes while riding a unicycle as cool as it sounds?
Ah…the car. It's a minivan and perfect for hauling people. Since nine of us were attending the con, the van was a natural fit.  Before the trip, we took it in for a tune up, found out the breaks were great but the front end alignment was shot, so we got that fixed, put on new tires, and were ready to rock and roll.
The drive to Seattle was pleasant: rain, interrupted by downpours, with short breaks of torrential drizzle. You know–Spring.
We made the hotel without getting lost. Always a victory for me. I am directionally-surrendered, one step below directionally challenged. So finding my way around my home town takes some serious concentration, much less gallivanting off to another state.
Remember how I said nine of us were attending the convention? Seven of those people were college students who all needed to be back no later than Sunday night so they could hit their first classes of the new term Monday morning.  That will be important.
Friday and Saturday go by like a flash.  There is much cool seeing of costumes…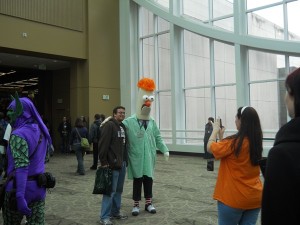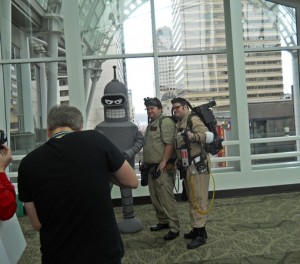 …and browsing of booths, and listening of great panels.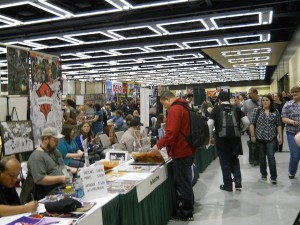 Around 7:00 am Sunday morning, they bring the van out of valet parking. One of the college students wants to attend Sunday Mass and has found a nearby church I volunteer to drive her to.  I pack my netbook, planning to find a place to park and work on my deadline while she's at service.
As I  get in the van, I notice the battery light is on and the charge is low.   Driving does not charge the battery, neither does sitting in the parking lot across from St. James Cathedral, and running the engine.  All that does is kill the car dead.
So there I am, 250 miles from home, on a Sunday, with a dead vehicle and seven people needing to get home in a few hours.
First thought (because I am a writer): "This is killing my writing time! I'll never make the deadline!"
Second thought (because I'm a realist): "Time to call a tow truck and try to find someone open on a Sunday to fix an alternator. Please, let it only be the alternator."
I call hubby, who is at home and probably contemplating a quiet morning of fishing.  We discuss options, and he gallantly decides to start the drive to Seattle in case the van can't be fixed in time, so I can use his car take everyone home and he can get the van to a service center on Monday.
The good news? Salmon's Service Center in Northgate was open. The mechanic there, Mitch, was pleasant on the phone, very helpful, and willing to get the alternator fixed before 5:00 if at all possible.  And he did!  So here's a HUGE shout out to all the weekend workers out there–you are my heroes!  Thankfully, all nine of us…ten, counting the gallant husband…got home on time!
LAST QUESTION:
Just how cool is Darth Vader playing the Imperial March on bagpipes while riding a unicycle?  Here is pictorial evidence to consider: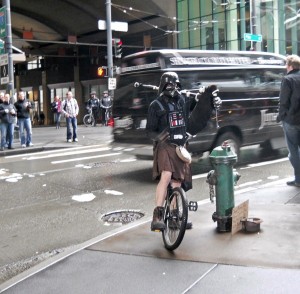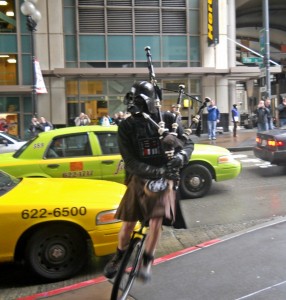 Answer: totally cool!