The random number generator has spoken!  Winners of a signed copy of MAGIC WITHOUT MERCY are:
Poppy who said:

Oh I would love a signed copy so much!!! I love this series

Must Love Books who said: I'm really excited for this book!!!

KT Wagner who said: I'm looking forward to the next book in the series.

Emma Welsby

who said: I can't wait to read it

Carol M. who said: Thanks for doing such great contests, Devon. A signed copy would be so wonderful!

Northwoman who said: oh gah! While I may be trying to convince myself to get new things as ebooks, the actual book and SIGNED is like thinking of heaven. I'm so excited for your book to be out! You're wonderful to do these teases and giveaways for us.

Kay Dee who said: I can't wait for the next book to come out!! I would love to win a copy!!!!

Rhianna Dutton

who said: love these books! awesome giveaway! thanks for the chance!

Jessica S. who said: I soooo can't wait to read this one!! I love the cover!

GreatNorthernTroll who said: Wahhhh-Waahhhhh… Devon, rescue me from the "I NEVER win anything" blues!!! Oh, OK. I did once win some truly awful, early eighties David Bowie discs from KGON, but that was like winning a trip to the torture chamber as the Torturee (is that even a word?). I Love all your books! I think if it's in print, I own it and in some cases, multiple copies… Magic Without Mercy would be the Crown Jewel of my Devon Monk collection!!!
Congratulations, winners!  Please contact me on my blog (click here to be redirected to my blog if you are reading this elsewhere) and use the little envelope button in the upper right hand corner.  I will mail these out beginning Monday, since I will be out of town this weekend.
If winners don't contact me by April 5th, I will draw new winners.
And…as promised, the final excerpt from MAGIC WITHOUT MERCY I will post before release day:
Excerpt – Magic Without Mercy
"How about I drive?" Shame asked.
"No," Zay said.
Shame turned to me. "Allie, he needs time. I'm not being a dick about it, but I do not want to be in the car if he hits a flashback of something he pulled out of someone else's head and suddenly can't feel his own extremities."
"That can happen?" I asked.
"Yes."
I looked over at Zayvion. He had his sunglasses on and looked every inch the cool, urban tough customer.
"Let me see your eyes," I said.
He tipped his sunglasses down. Gold and brown. Gorgeous. He didn't look out of his mind. But he didn't argue with Shame. Which meant what Shame was saying was true and he knew it too.
"I think I should," I said. "I've been doing the least heavy lifting. It's my turn to pitch in."
I held out my hand. After a slight hesitation, Zay dropped the keys into my palm. I unlocked the car and we all piled in, Zay in the front next to me, and Shame in the back.
"So who sent the message?" I asked.
"Victor," Shame said.
"What was it?"
"He said Violet's safe with Kevin and out of danger."
"Uh-huh," I said. "That's in the book?"
"Forty-two, three, four, and forty-two, three, eleven: 'quite safe with him' and 'out of all danger.'"
I just shook my head. "I still can't believe you use that book."
"You know I like to keep things simple."
"Well, until I hear straight from Victor that Violet's not only okay but cleared the hell out of this town with my baby brother, I'm not going to stop worrying."
"Of course not," Shame said, "worrying is what you do best."
Zayvion reached over and put his hand on my thigh. Even through my jeans, his palm was hot, heavy, welcome.
I was careful to drive under the speed limit as we headed back to town. I didn't know exactly where Collins was, and didn't want to have to use a Tracking spell to find him. There were several old warehouses under several water towers in Portland. I wished I'd asked for specifics when Bea told me where Collins was hiding out with Davy.
"Do you know which warehouse?" Zayvion asked.
"Sort of in process-of-elimination mode," I said. We were rolling down streets, trying not to look too suspicious as I scanned the buildings for any hint of where Davy might be. If I could use magic, I'd just flick out a Tracking spell. But I couldn't do that. The few spells I could see clinging to the buildings weren't exactly big neon signs telling me my dying friend was behind the burger joint.
"Careful," Zay warned.
A car cut in front of me and then slowed to almost a complete stop.
"What the hell?" I muttered. Then I realized it was Jack Quinn's car. Jack was a Hound and Bea's boyfriend. The left blinker flashed on for just a second, and then Jack drove at speed again.
"Zayvion, I'm sorry to tell you I think I have a crush on another man."
"Who is this unfortunate and soon-to-be-dead fool?" he asked.
"Jack. That's his car. He must have been waiting for us, or maybe he followed us."
"Jack Quinn has been following us?" Shame said.
"And now he's taking us to Collins, I think."
"Or a trap," Shame said.
"He's a Hound, Shame."
"My statement stands."
"You still don't get it, do you?" I turned left, following the car. "Hounds are loyal. Jack and Bea told me they'd help me if they could. They're not going to turn against me while I'm in trouble."
"What happens when you're not in trouble?" Shame asked.
"Don't know. It's never happened."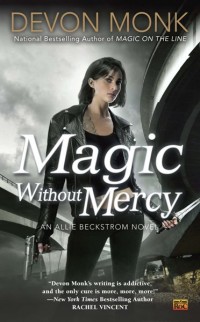 April 3, 2012