This giveaway is now closed. Winners are announced here.
I've been talking a lot about MAGIC WITHOUT MERCY (because it comes out in 2 weeks!!) but I have another book coming out soon.
TIN SWIFT hits shelves in July.  It is book 2 in the Age of Steam steampunk series, and continues the adventures of cursed bounty-hunter Cedar Hunt, witch Mae Lindson, deviser Rose Small, and the mysterious Madder brothers. One of the great things about the Age of Steam series is that the books can stand alone. I think a reader will get more out of TIN SWIFT if they have read DEAD IRON (book 1 of the series) but I think TIN SWIFT can also be read and enjoyed on its own.
Why am I bringing this up? Well, look at what I got in the mail yesterday: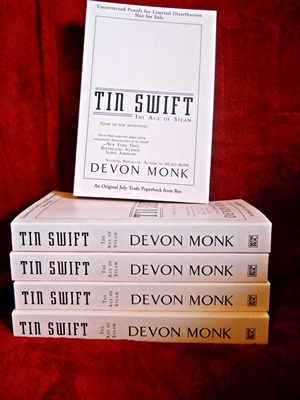 Yes, my friends, those are advanced unproofed copies of TIN SWIFT.  As you can see there is no fancy cover art, which looks like this: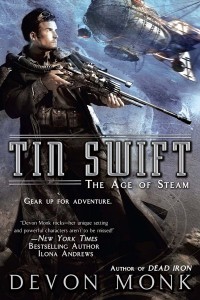 As you can't see, there are typos and mistakes in the text, since this is the uncorrected version of the book.
What kind of book is it? Well, let's just take a look at the back cover description:
In steam age America, men, monsters, machines, and magic battle to claim the same scrap of earth and sky. In this chaos, one man fights to hold on to his humanity—and his honor…
 Life on the frontier is full of deceit and danger, but bounty hunter Cedar Hunt is a man whose word is his bond. Cursed with becoming a beast every full moon, Cedar once believed his destiny was to be alone. But now, Cedar finds himself saddled with a group of refugees, including the brother he thought he lost.
 Keeping his companions alive is proving to be no easy task, in part because of a promise he made to the unpredictable Madder brothers—three miners who know the secret mechanisms of the Strange. To fulfill his pledge, Cedar must hunt for a powerful weapon known as the Holder—a search that takes him deep into the savage underbelly of the young country and high into the killing glim-field skies defended by desperate men and deadly ships.
 But the battles he faces are just a hint of a growing war stirring the country. To keep his word, Cedar must navigate betrayal, lies, and treacherous alliances…and risk everything to save the lives of those he has come to hold dear.
So if this sounds like your cup of tea, or maybe you just want to give a wild west steampunk a try, please leave a comment here on my blog. And, hey, if you have any questions about it, ask away!
I will give away five (5) signed uncorrected proof copies and will mail them anywhere in the world.  Winners will be selected by random number generator Sunday, March 25th sometime before midnight PST. If winners don't contact me by the next Sunday, April 1st, I will choose new winners. Good luck!