I'm sorry I didn't get the Wednesday Excerpt up on Wednesday. We're going through some house reconstruction, just little things like making sure the roof doesn't fall in and the kitchen wiring doesn't burn the house down.  The contractor working on the house has been awesome so far.
Wednesday was scheduled for the electrician to come in and  work on the kitchen wiring. Since the electricity was going to be turned off, I packed up my work and headed down to the coffee shop.
I couldn't update my blog from there. When I came home, I found out plans had changed and the electrician was going to work on the wiring Friday.  So I got busy working at my desk, and well…completely forgot to blog.
Long story short (or maybe it's too late for that, lol!) Here is Wednesday's snippet:
Excerpt: Magic Without Mercy
"You do know that crystal in your chest is pulling on the magic," I said.
Shame raised his eyebrows. "You can see that?"
"Yes. It's been pulling magic from anything it can. And it's been pulling on your life energy when there isn't any magic nearby. Did you know that?"
He held his breath a moment, his dark green gaze steady. "It's not like I've brought it up at the dinner table."
"Have you had a doctor, a doctor who understands magic, look at you . . . at what the crystal is doing to you?"
"What do you think it's doing to me?"
"It's drawing on magic, I think to feed or charge itself. There were glyphs carved in that crystal. Glyphs my dad put there to hold magic and helpit recharge."
"That's what the doctors said about it."
"Is that all they said?" I asked.
"That, and they had never seen anything like it before."
"It's draining your life, Shame. I know Terric somehow used magic to bind this crystal to you when you were wounded during the wild-magic storm, and I think he saved your life."
"Please. I save my own life."
"But," I said over his grumbling, "the crystal was never meant to be fused into someone's body."
"Oh, you think?"
"What I think is it's hurting you. Taking your life energy when it doesn't have enough magic to fill it. It might be killing you, Shame."
"I know."
"That's it? That's all you have to say?"
"We're all dying, Beckstrom," he said with a steady kind of sobriety, as if he'd been so long staring into the face of death, he'd become accustomed to it. "Use magic, it uses you back. Until you're dead. That's the way it is."
"It's not how it has to be," I said.
He gave me half a smile, his bangs falling over his eyes. "You are such a dreamer. Listen, Terric did what he thought he had to do. I thought . . . last time we were here and Mikhail possessed me . . . I thought that would be the end." He shrugged. "Yet, here I stand. I'm not going to go easy, or quietly, crystal or no bloody crystal. But I'd appreciate it if you didn't bring it up to my mum, okay?"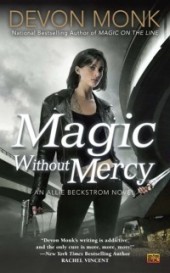 April 3, 2012