Happy New Year, everyone!!
I'm starting off the year a bit behind in most everything since my computer crashed and burned about two weeks ago rendering most of my electronic life difficult to access.  I am now the happy owner of a new computer, and am setting up even more back up processes. (I didn't lose documents, thank heaven, but email may be unrecoverable. I did have some important correspondence and documents in my email.  There is a slight possibility it can be recovered, but I won't know for another two weeks.)
Therefore, my first post of 2012 is about catching up. Hold on while I pour coffee….
…mmmm…delish.  Okay.  Here we go!
Writing:
I am literally in the middle of the final conflict scene of MAGIC FOR A PRICE, the 9th and last book of the Allie Beckstrom series. After today, all I'll have left is the wrap up and epilogue scenes.  It has been such a fun, and bittersweet experience to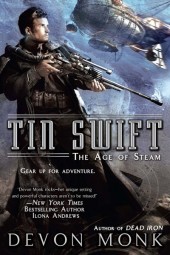 write the last book in my first series.  My goal is to conclude the book and series in such a way that readers close the covers with a satisfied exhale.
However, for the next couple weeks or so, I am putting aside the writing of MAGIC FOR A PRICE and turning my attention to revisions due on TIN SWIFT, the second book in my Age of Steam steampunk series.  I did a quick copy edit on a chapter from TIN SWIFT (which will appear in the back of MAGIC WITHOUT MERCY, book #8 of the Allie Beckstrom series out this April).  Even just dipping my toes back into the steampunk world made me want to dive back in for some serious misbehaving. TIN SWIFT is tons of fun to write.
Book Releases:
I am THRILLED to announce that MAGIC IN THE BLOOD, book 2 of the Allie Beckstrom series will be on the shelf January 13th in the UK via Berkley UK. 
Not only has it been a real pleasure to work with my UK editor, but also I love what they've done with the covers!  Here's the UK cover of MAGIC IN THE BLOOD: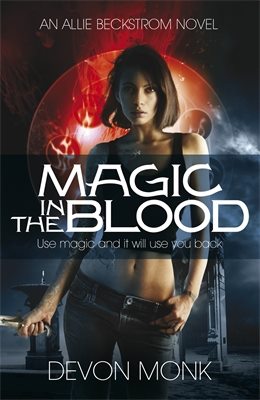 Fabulous, isn't it?  I will be doing a giveaway of the UK MAGIC IN THE BLOOD in the next couple days, so I hope you'll check back in!