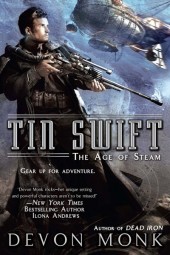 Tuesday I sent in the revisions on my next steampunk book, TIN SWIFT.
Yesterday I got news from my editor that she was very happy with the changes.  Which means that other than a few additions/subtractions in copy edits, and then wee changes in proofs, TIN SWIFT is mostly ready to go.
This is very exciting to me. One, because TIN SWIFT was a challenging book to write in the time constraints of the deadline (the steampunk books write slower and revise slower for me, due to the research involved).
Two, because it was so crazy fun to write this story and see how the characters would find their way in this American West world of steam, airships, monsters, witches, curses, love, and oh, yes…revenge.  I'm so glad my editor had fun with it too!
And now I am back at working on the next Allie Beckstrom book, MAGIC FOR A PRICE.  I'm having a lot of fun on this book too!  The difference here, is it is the close of the nine-book series.
When I first got the news that I'd sold the first book in the Allie series, I toasted the sale with my amazing first readers, friends, and family.  I think I need to start a tradition of how to celebrate the end of a series too.
Any suggestions?  Should I make a special dinner, fly a lantern, buy a gift? What would you do to celebrate?