Right before Christmas, I decided to start knitting gifts. (All you knitters out there, stop laughing!)  I didn't finish even half of the gifts I had planned to knit.   But I did manage to knit some some cozies.  Are they normal ol' cup cozies?  Of course not!
First up?  Sock monkeys!
This is a sock monkey cup cozy for my sister.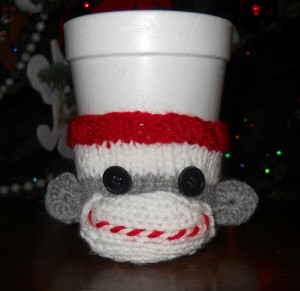 This is a zombie sock monkey cup cozy for my nephew.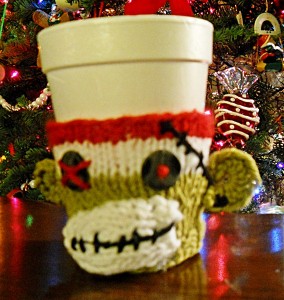 And here's the whole sock monkey family! (I knit one for her hubby too!)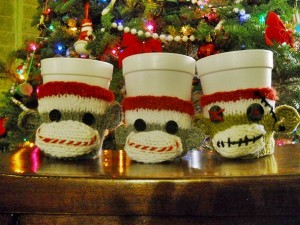 Now onward to…..more cozies!!
These are beer/soda/cup cozies for my sister-in-law. I knit them in her favorite team colors. (I knit one more, but my computer crash lost the photo)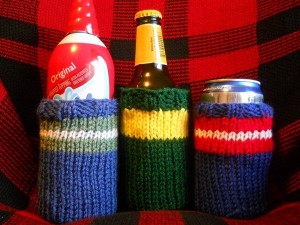 And this, my friends, is the dead squirrel beer cozy for my brother. Yes, I knit a dead squirrel as a gift for a person I love. Don't tell me what that says about me.  Just look at the squirrel!  Look at it!!  Isn't it cute?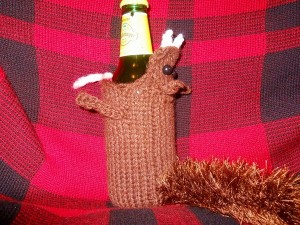 Here is the cute dead squirrel waiting to get cozy with the beer.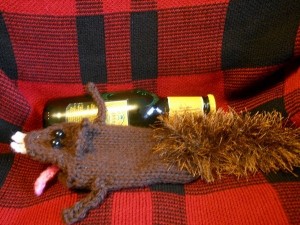 It has been suggested that I refrain from knitting when I am stressed and on tight deadlines….
UPDATE PATTERNS:
I've received a few requests for pattern links.
The Dead Squirrel Beer Cozy was originally designed by Vanessa Scott on Ravelry.  However, I don't think she wrote a pattern for it.
Jessica Correa adapted a pattern for the Squirrel Beer Cozy and also designed a "Scrat" version.  You can find it here on Ravelry. (note: I think you must be a member of Ravelry to view their patterns. It's free to join.)
Zombie Sock Monkey Cozy was  a modification of a couple different cup cozies, but the one I followed the most was Margaret MacInnis's Mugg's Monkey pattern.
I loved the look of Franne's Sock Monkey  which is modified from Alejandra Quiroz George Sock Monkey pattern, so I used that "look" when piecing the regular sock monkeys together.
Given the chance to knit the zombie sock monkey again, I'd do it all the same, except for the muzzle, which I would knit with short rows like the heel of a sock.
Other hints on the zombie: Green, white, and red seemed like the best combinations of colors so that he was recognized as a sock monkey, and not as some kind of  Frankenstein monster.
The eye buttons were flat with a matte finish and a cloudy white streak through them.  I tried dozen of buttons and those seemed the best.  Remember to give your zombie a grin on one side of his stitched up mouth.  He  looks real cunning and sneaky that way.