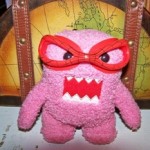 OryCon!  I will be there, like a little pink Domo looking for trouble!  And I will even try to take pictures this time!
Here's my schedule:
Friday 11th
5:00-6:00 The Fine Art of Description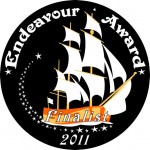 7:00-7:30 Endeavour Awards 
A Cup of Normal by Devon Monk
The Bards of Bone Plain by Patricia McKillip
Black Prism by Brent Weeks
Dreadnought by Cherie Priest
Silver Borne by Patricia Briggs
(I am so grateful and humbled to even be on that list with such amazing authors!)
Saturday 12th
10:00 am-11:00 So You Want To Be A Writer?
12:00-1:00 The Structure of Writing
2:30-3:00 Autograph Session 2
4:00-5:00 The Physics of Magic
Sunday 13th
12:00-1:00 The Unique Challenges of Urban Fantasy
And then, quick like a soaped-up Chthulhu, I'll be off to Powell's Books at Cedar Hills Crossing in Beaverton to attend the
massive

SF Authorfest V.

Here are the details for that event, nabbed from Powell's Calendar of Events:
Sci-Fi Authorfest V
A starfleet of science-fiction and fantasy authors descends for one galactic booksigning event. Attending authors include: Camille Alexa, Brent Weeks, David Levine, Nina Kiriki Hoffman, Kristine Kathryn Rusch, Dean Wesley Smith, Peter Orullian, Mark Ferrari, Elizabeth Ann Scarborough, Kevin James Breaux, Meljean Brooks, Devon Monk, Lilith Saintcrow, J. A. Pitts, Timothy Zahn, Irene Radford, Ru Emerson, Adrian Phoenix, Andrew Mayer, Mary Robinette Kowal, Shannon Page, Claude Lalumiere, M. K. Hobson, Brenda Cooper, Vonda McIntyre, Louise Marley, and Ursula K. Le Guin. And in attendance will be the Cloud City Garrison of the 501st Imperial Legion with the Kashyyk Base of the Rebel Legion.

Sunday, November 13th @ 4:30pm Powell's Books at Cedar Hills Crossing
3415 SW Cedar Hills Blvd. (800) 878-7323
I hope to see you there! And please…if you see me in the hall and want to talk, come on over and say hi! The whole reason I go to conventions and signings is to meet great people, hang out, and have fun.