Last month I went a little overboard and knitted up
a bunch of silly stuff
in the week before Halloween.  After I got that out of my system, I decided to tackle a different sort of project. A couple months ago I saw the trailer for SHERLOCK HOLMES 2, and noticed Watson (Jude Law) was wearing what appeared to be a hand-knit scarf.
Click here for Sherlock Holmes 2 Trailer
(close up on the scarf at :37) Some still photos: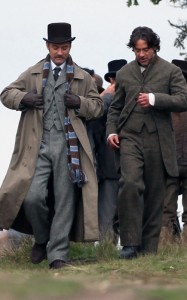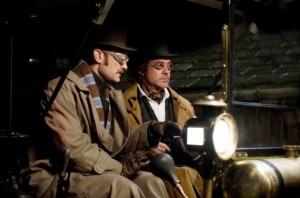 I loved it, and wanted to knit it. It took some research, a lot of staring at still frames and photos counting stitches to try and get this scarf right.  Along the way, I read that the costume designer intended for the scarf to be knitted by Watson's wife, and Sherlock, of course, hated it.  🙂 Luckily, I wasn't the only knitter who fell in love with the scarf.  And while I modified my pattern, I'd like to give a shout out to 
Bentochan
whose pattern gave me the basis to start. My Dear Watson Scarf: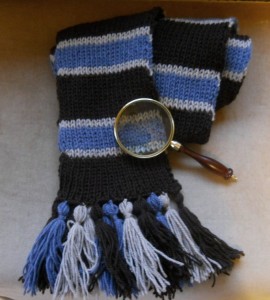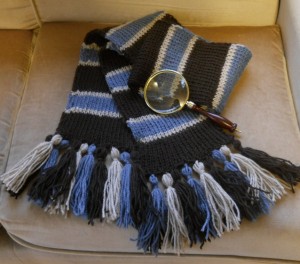 What do you think?  Did I get it close? I have to say I'm loving it, and wear it constantly.
The Watson Scarf
Needles: US #11 Yarn: Patons Classic Wool in Taupe, Natural Mix and New Denim Pattern: Cast on 40 stitches. K1 p1 across for every row. Stripes: Brown 12 rows, Natural 2 rows, Denim 6 rows, Natural 2 rows  Repeat. Knit until almost knee-length starting and ending on brown section. Tassels: 10 total per side in this order: brown, blue, natural