I was going to wait a couple days before revealing the cover of TIN SWIFT book 2 in the Age of Steam series, but I see it's been announced over on Tor.com so I'm going to post it too.  Here you go!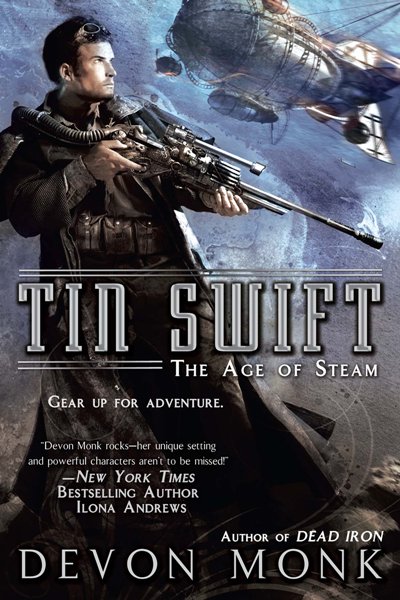 The artist is Cliff Nielsen, and I think he's done a fabulous job of capturing the speed and movement of the book.  TIN SWIFT reads fast, and is filled with action, adventure, danger, and humor. (Yes, there's still darkness in it, like DEAD IRON, but the book carries a lighter, faster sort of feeling.)  There's also new characters introduced, and of course, Cedar Hunt, Mae Lindson, Rose Small, Wil, and the Madder brothers feature in this book too.
That ship on the cover?  That's the SWIFT.  She's a beauty, and one of the fastest glim harvesting airships in the western sky.  I'm so happy the artist and art department decided to put Cedar, that big ol' gun, and the SWIFT on the cover!
So what do you think?  Do you like it?  Here they are side-by-side: DEAD IRON and TIN SWIFT