My fellow Deadline Dame, Rinda Elliott just made an exciting announcement.  Her debut book , KITHRA, under her pen name Dani Worth is out today!
I've read her urban fantasy and can confidently recommend you give her sensual work a try.  Rinda…I mean Dani says she had a lot of fun writing this hot, sexy book, and is happy to announce that it is the beginning of a series. For more about Dani Worth, and KITHRA, and a chance to win a free copy, check out her post on the Deadline Dames today.
Congratulations to an awesome Dame!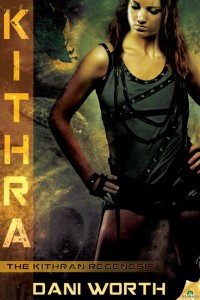 The Kithran Regenesis, Book 1
Spaceship captain Lux Moyans is currently piloting missions for The Company. When her second-in-command, Kol Frega, informs her they've been ordered to Kithra, she's furious. A year on an uninhabitable planet? She'll only be flying supply missions! But her ship—Kol's design—is the only one that can withstand the planet's gases…and Lux is one of the few pilots with the skill to navigate the debris fields resulting from the explosions that killed most of the planet's Gwinarian race.
Kol is the engineer who learned to manipulate the indestructible metal on Kithra, and he and a surviving Gwinarian will be her only company on planet. When they pick up Egan Lothbrun, Lux knows there will be trouble. She's already attracted to Kol and she doesn't need another man to arouse her either mentally or physically. Lux doesn't want or need the complications that emotions bring. Yet, when she learns Kol and Egan share a painful past, she realizes getting Kithra livable won't be her only challenge.
Keeping her heart intact might be harder.