What a fun weekend!  A big thank you to
OryCon
, and to everyone who came to panels, attended the Endeavour Award ceremonies, and shared in the love of science fiction, fantasy, and horror via costumes, music, writing, reading, art, films and crafts.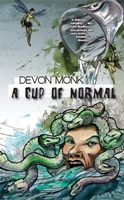 My short story collection:
A CUP OF NORMAL
was a finalist for the
Endeavour Awards
.  The lovely Mary Robinette Kowal read a selection from each piece on the ballot. When my excerpt was read, I was so happy to hear the audience laugh in all the right spots. ('Cause, come on. What isn't funny about a girl showing her best friend the secret she keeps under her bed--her dog--that also happens to be her first raised dead?) I loved hearing the excerpts and hope that the Endeavour Awards continues this tradition. Congratulations to Cherie Priest, who was this year's winner with her novel
DREADNOUGHT
.  If you haven't tried Cherie's steampunk series, you should! Really excellent stuff. And thank you, Endeavour Awards readers, judges and coordinators for all the work you put into this most excellent event.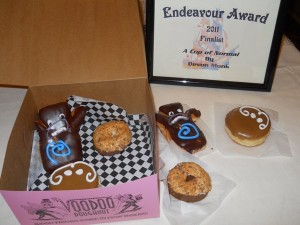 (Mmmmm....VooDoo Doughnuts!) I think my favorite thing about con-ifying myself is catching up with friends I haven't seen for far too long, getting a chance to "talk shop" and also...something fairly new for me....people stopping me in the halls to tell me how much they enjoyed my books! Thank you for reading!!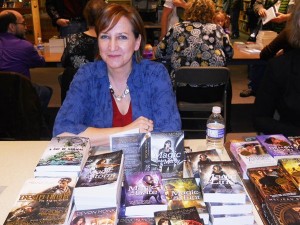 (Me behind a stack of my books, with some of Meljean Brook's novels there on the right) After the convention, I headed over to
Powell's Books
in Beaverton for
Sci-fi Authorfest V
hosted by the amazing Peter Honingstock. It was fantastic! This year, Ursula Le Guin was in attendance, and the line to her table seemed to reach from one end of the store to the other.  I had a chance to quickly see or catch up with
Lilith Saintcrow
,
Meljean Brook
,
MK Hobson
,
Brenda Cooper
,
Barb Hendee
,
Nina Kiriki Hoffman
,
Ray Vukcevich,
J.A. Pitts
,
Kevin James Breaux
,
Louise Marley
. It was a delight to see new readers, and familiar readers.  Thank you so much for coming by! But the biggest surprise?  Shamus Flynn.  He walked up to my table and demanded, "Where's my series, Monk?" That, my friends was
*awesome*
!  He had every detail: flask, pack of cigarettes, black lighter, fingerless gloves, peacoat, boots, beanie and attitude. Here's a photo of me and Shame heading out. And yes, we're flipping off the camera.  What can I say? Shame brings out the bad in me. 😉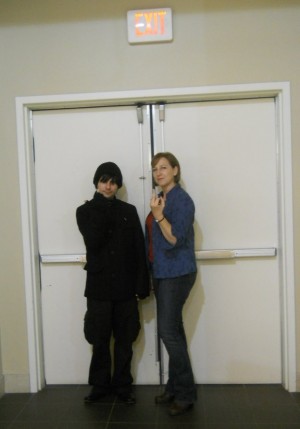 http://www.osfci.org/endeavour/