Over on the Deadline Dames I recently talked about how I think conventions can be pretty nifty things and that I will be attending Orycon, my local genre convention, November 11-13 2011.
Not too long after that, mundanename on Twitter asked me:
What is Orycon and what fun things can you do at it?
Great question!
I am not affiliated with the convention or those tireless volunteers who keep it running every year.  Being a fairly shy person, I haven't even sat down and talked much with the people who run the convention, but I am endlessly grateful that they have kept the event alive.
Orycon was one of the first places I received a critique from professional writers, and that critique did so much to help me move forward with my writing career.  Therefore, I have a total soft spot for this event.
Basically, Orycon is a genre convention (every state, and most big cities hold genre conventions similar to Orycon). It is a gathering of people of all ages who love everything science fiction, fantasy, horror, and the combinations of subgenres within those umbrellas.  It is staffed and run by volunteers who make sure there are plenty of events to attend.
The convention takes place in Portland Oregon over one weekend in November.  During that time, there will be several big events, (opening ceremonies, costume contest, Endeavour Awards, dances, musical events, auctions, parties, etc.) and there will be Guests of Honor (usually an author, editor, artist, musician and fan).
There is multi-track programming you can attend during the day and night.  The tracks are divided into basic interests and the panelists are people who know a little something about the subject at hand (professional writers, artists, publishers, editors, musicians, designers, scientists, etc.)  The panelists hold a one-hour discussion and Q&A session on writing, art, costuming, fandom, social issues, lifestyle issues, science, books, movies, comics, music, and anything else that might be of interest to people who like science fiction, fantasy and horror.  There is also a separate track of events for children, and babysitting available.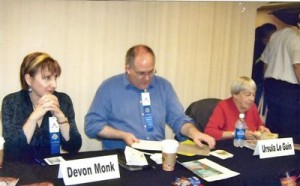 What else?  So much.  There are hands-on workshops on a bevy of subjects.  There is an art show and art auction.  There is a dealers room where makers and sellers of all things genre related set out their wares.  Bids for future convention locations and venues are present, as are filking, room parties, and just plain hanging out with cool people, readers, fans, enthusiasts, writers, artists, editors, publishers, musicians and more.  Orycon has a rocking gaming room that provides hundreds of games to try, including space for D&D (etc.) campaigns. It should be noted that live action role playing and zombie marches have been seen in the halls.
What more? Lots more. There is a hospitality room where food and beverages are free and internet access is available. Authors hold signings and readings, and artists are there to discuss their work.
I am sure I am leaving out a bunch of cool stuff.  So here, let me put a link to the website, and you can take a look around.  If you are in the area, and decide to give Orycon a shot for a day or for the whole weekend, I hope you'll come find me and say "hi!" Because I think the thing that keeps Orycon going is that it is a wonderful place to catch up with old friends, and make plenty of new ones.
Link to look at last year's programming schedule