I like to knit.  I like to knit silly things, nerdy things, geeky things.  I like to knit useful things too.
So I was thrilled when my sister-in-law asked me to knit this silly, useful thing: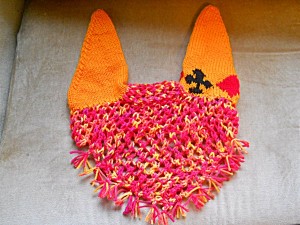 What is this, you may ask?  And why is it traffic-cone ow-my-eyes! orange? Here's another look at the front of it:
Sure it's a hat of some sort.  But for what?  Ewoks? Yoda?
Now here's the back of it: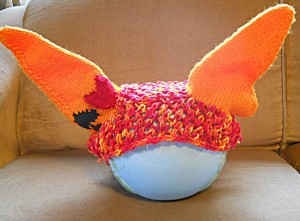 Still not sure how it could be useful?  That's okay.  I had never heard of this sort of thing before asked to knit it.
It is a fly bonnet (or fly veil, or fly net) for a horse!  Specifically, for her horse, Joker.
Surprised? So was Joker!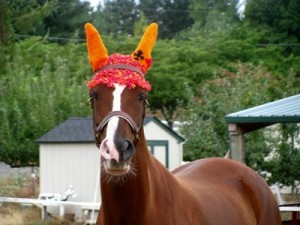 Why it is so incredibly orange?  She and Joker trail ride and it's hunting season. The idea is to keep flies off Joker's face, eyes, and ears, and to also make it clear to any wandering hunter that he is not a deer or elk.
The other horses were not exactly thrilled with Joker's fashion statement.  As a matter of fact, as soon as they got a look at it, they ran away.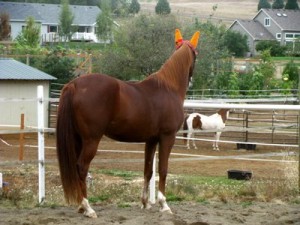 Here's a photo of Joker in motion.  I think he's warmed up to his new fashion-forward look.  Oh, yeah, rock that hat, Joker. You know the other horses are just jealous.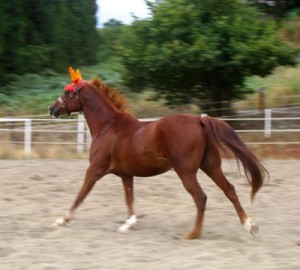 Okay, maybe not jealous.  Yes, they probably think it looks silly too.  But you know, silly in a handsome way.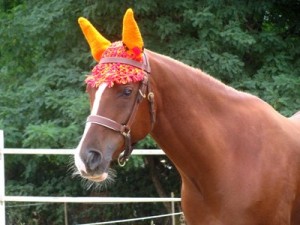 Hey, don't look at me like that.  This wasn't my idea!
The specifics:  I made it out of scrap acrylic on US #9 needles. Most fly veils are crocheted, but I found ONE knit pattern.
That pattern is over in the projects section of Ravelry, and you can find it by searching for Knittyhorse, who designed it.
I had to modify quite a bit to make it big enough for Joker, but still, it is a great pattern and is officially today's most Silly And Useful Thing!