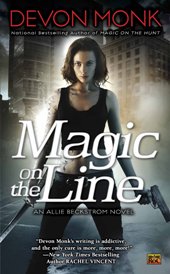 MAGIC ON THE LINE will be out on November 1st–just two weeks away!
I am so excited for this book to hit the shelves because it is book 7 of the 9 book series. Why is that exciting?  Well, I tend to look at the series as one long story with each book telling a little part of that story.  But I also see every three books acting like their own little trilogy.  Every three books, a bigger part of that long story is opened up, and we see Allie's world in a whole new light.
For me, MAGIC ON THE LINE  is the foot-on-the-pedal launch into the last three books that will give us the final installment of Allie's story.
So, yes.  I am excited (and more than a bit nervous) to find out if people are going to like the twists and turns Allie and the gang find themselves having to survive navigate in this book.
But here's the really cool thing….I have, in my hot little hands, copies of the book which I will now give away to you!!
Please click here to go to my blog and leave a comment to be entered into the giveaway.
(It's difficult keeping track of comments across twitter, facebook, livejournal and etc., and I'm on a killer deadline right now, so if you could please comment on the blog, I'll have everyone's names in one place when I do the drawing and it will make it So Much Easier on me. Thank you!!)
I will give away ten (10) copies of MAGIC ON THE LINE and I will ship anywhere in the world.
Winners will be drawn by the random number generator sometime Thursday PST.
Go, go, go!  Win, win, win!
Good luck!!