Do I have a metric ton of things I should be doing right now? Oh, heck yes.   My inbox still isn't under control, I owe blog posts to various wonderful people, have a book to outline (the final Allie Beckstrom!) and write, AND copy edits for MAGIC WITHOUT MERCY (which comes out April 2012) just landed with a thump on my desk.
Am I doing any of those things?  No.  What am I doing?  This: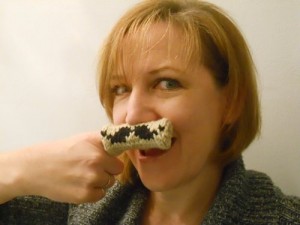 Oh, yeah!  That's right! I knitted myself a finger-mustache!  Who has a Halloween costume?  This gal!!
Many thanks to Megziewoodles for the awesome pattern!