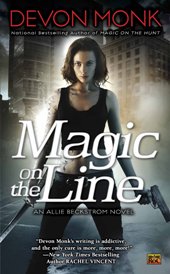 FIRST, thank you to everyone who left a comment on my post about angry reviews and this blog being my happy place.  I appreciate that I'm not the only person who likes a No Anger Zone, and it was really sweet of you all to leave such nice comments about the post and my books too.
You have made my blog an extra happy place!  Rock on!
SECOND, MAGIC ON THE LINE comes out tomorrow.  But there are rumors that it has shown up in bookstores over the weekend.  It is possible the book is being read right now!  I can't tell you how excited I am!
Since I wrote about angry reviews last Friday, I thought I might start Monday off with some positive reviews.  These awesome readers took the time towrite down their feelings and experience reading MAGIC ON THE LINE.  If you want a peek at what these people liked and didn't like about the book, click on the links.
If you are a reviewer and want me to post a link to your review (and remember, it's perfectly fine if it criticizes the book…I don't mind angry reviews, I just don't want the anger in the comment section of my blog)  just send me an email and I'll add you to the list.
THIRD,  how about an excerpt from the book? I've included a little scene with Allie and Zay right after the review list. Happy Monday!
MAGIC ON THE LINE reviews
Excerpt MAGIC ON THE LINE
"You going to open it?" Zay asked before we reached the stairs.
I was holding both packages at arm's length like I was balancing nitroglycerin. I wasn't quite sure what to do with something Collins thought my father would think would be helpful to me.
"I'm not going to carry it around without knowing what it is." I handed him the smaller package because it was making my hand itch. I tugged on the string on the larger bundle. A stinky snap of magic later and the package fell open.
"It's a gun," I said.
"So it is," Zay agreed.
We both just stared at it. "Bet I can guess what's in the other package," I said.
"Bullets," Zay said. "Mind?"
"What's mine is yours, baby." I handed him the gun. He picked it up like it wasn't going to turn into a monster and bite his eyes out. I watched him, watched how he tipped it sideways, inspecting various, uh . . . doodads on it, then turned toward the blank wall and sighted along it.
He grunted, tipped it again to look at some other thing and spun part of it with another satisfied grunt.
He handed me the other package. I opened it. Stinky snap and, ta-da, bullets.
Correction, incredibly stinky bullets. "Whoa," I said. "Do these smell like shit to you?"
I held the box of bullets up to Zay's face and covered my nose with my left hand.
He jerked his head back, expecting a wave of stink, then stopped. His nostrils flared as he breathed in. "No. They smell like magic."
Right.
He traded me the gun for the bullets. A sweet deal since the gun didn't reek.
Zay plucked a bullet out of the box and turned it between his fingers. "These are forged with glyphs," he said with something almost like wonder. "Amazing work. I'm not sure. . . . yes, it's Impact." He dropped it back in the box. "Shoot someone with these and they will not be getting back up."
"Good to know. How do you shoot a gun?"
He held his breath and, mostly, his surprise. "Seriously?"
"Not everyone grew up ghetto," I said.
He gave me a warning look.
"Well, then. Let me run you through the basics, rich girl." He stepped next to me and named off the parts of the gun, how to hold it, how to aim it, how to fire it. "Chamber, trigger, sight and squeeze" was about all I remembered.
"Got that?" he asked.
"Totally."
He grinned. "You are such a liar. Since the bullets are magic, I think if you put the shooty end of the gun toward the bad guy,"he tapped on the tip of the barrel just in case I'd forgotten where the bullet exited, "and focus your mind on where you want it to hit, it won't disappoint."
"The shooty end?"
"That's ghetto for barrel."