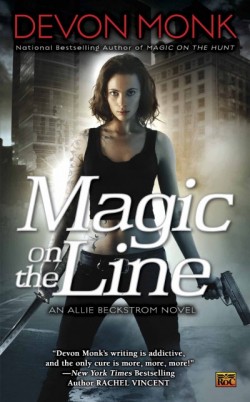 One of the tricky parts of writing an ongoing series is keeping track of which characters know what.  This is further complicated by rewriting, and the revision process.  During revisions I may cut entire scenes wherein a character is told something important, or I may add a scene to reveal a secret to a character, or I might change which character heard the secret and how they found out.
So when my editor asks me things in revisions such as…(paraphrase) "I thought this character didn't know about that secret.  Am I remembering wrong?  If character does know, could you remind us about that?"
What I should do is: pick up the books and start reading through for the scene that may or may not exist and that may or may not contain both the character and secret.
What I want to do is: ask the character.  Which would go something like this:
Me: Say, Nola?  Did I tell you that big secret thing a couple books ago?
Nola: Who are you?  Where is that voice coming from?  What books?
Me: Sorry. *adjusts voice* Hi, Nola.  This is Allie.  Say, did I talk to you about a big secret a while ago?
Nola: You mean that incredible sex move Zayvion pulled on you the other night?  The part when you didn't expect him to put his–
Shame: Did someone say sex?
Me: Shame, this is a private conversation.  Only room for me and Nola in the brain right now.
Daniel Beckstrom: I'm still here.
Me: Okay, only room for me, Nola, and the dead guy.
Shame: *scoffs* I'm a Death magic user.  I'm plenty dead enough to be here.
Jeb Lindson: Don't suppose you'd want more than one dead man shambling through your dreams.
Me: Oh, for crying out loud.  Jeb, you're not even from the Allie Beckstrom books.  I don't need to talk to you right now.
Jeb Lindson: Have you seen Mae?  My Mae?
Me: *pointing at urban fantasy brain space*  Not here. *points at imagination elevator*  Try the steampunk level.
Shame: Dude! Was that a zombie?
Me: Still don't want you here.
Shame: Yet here I am.  And there's nothing you can do about it.
Me: I could kill you.
Shame: *pause* Ah. *slow grin* Would it be a tragic, yet spectacular death?  A heartbreaking  Oscar-winning moment?
Me: No.  It would be the most embarrassing thing I could think of.  What do you think about honey badgers?
Shame: They don't give a shit.
Me: Topical.
Shame: I'm witty that way.
Nola: So…should I just leave?
Me: No!  Stay.  I was wondering.  About that secret….
Daniel Beckstrom: I know a lot of secrets. You know there's things I still haven't told you.
Me: Don't care. Not listening.  Nola, the secret is about….
Shame: Bored already.  Anyone want a beer?
Me: Why did I even think you up?  You're like a curse.
Cedar Hunt: There are all sorts of curses that can change a man.  You could turn him into a wolf.
Shame: Hold on there, mate.  I don't know which part of her brain you come from, but around here, no one turns into four-footed creatures.
Greyson: What am I?  Chopped liver?
Me: Enough!  All of you–go.  Get out of here.  Do something interesting so I can write about it.  But do it somewhere else.  Leave me alone and stop bothering me.  Out, out!
Shame: Even me?
Me: Oh, especially you, Flynn.
*characters all file out*
*moment of silence*
Me: So, Nola.  Nola?
*more silence*
Me: I hate revisions.