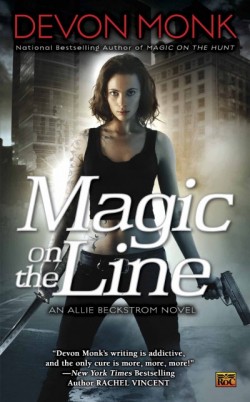 TIN SWIFT – on hold for 8 days so far.  I am just over the halfway point in this book  (I think) and have been having a blast.  Research has slowed me down as I go (but is neccessary, as it drastically changes the scenes, and I'd rather not have to completely overhaul each scene to refit the information I research afterward) but overall, it has been so enjoyable to write.
There are some new characters in this book who picked up the pages and ran with them. I love when that happens!  I will be getting back to TIN SWIFT as soon as I finish revisions on…..
MAGIC WITHOUT MERCY – started revisions 8 days ago. Hope to wrap it up in the next 3 days.  Every book's revision process is different, and for MAGIC WITHOUT MERCY I'm mostly adding, adding, adding.  About 5,000 words so far, and most of those in dialogue. This book is the second to the last in the series and it has a lot of ground to cover.
A lot of exciting ground!
Oh, and MAGIC ON THE LINE will be out in just over seven weeks!  Wow!  I can't believe it's almost here!
And now…I return to Allie to see if I can get her into any more trouble….