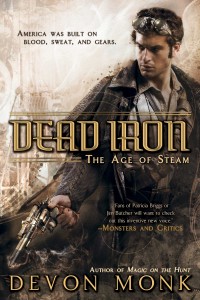 Yesterday I worked on catching up on emails (still have a few to answer, but I'm getting there) and there were a couple questions that kept popping up.  I thought I'd answer them here.
1. How many books will there be in the Allie Beckstrom series?  Nine.  The most recent is MAGIC ON THE HUNT which came out in April of this year, and the next book, MAGIC ON THE LINE will be out November 1, 2011.  After that, we'll have MAGIC WITHOUT MERCY in April of 2012, and the final book in the series will hit shelves November 2012.
2. Will there be more Allie books?  I don't know. 😉  This story is finished by book nine, but I love writing about Allie and the crew.  I can't imagine never visiting their world again.
3. What about DEAD IRON?  Is it a stand-alone book?  No.  I am working on book 2 in that series right now and should have a title to announce really soon.  DEAD IRON & the sequel are the only books in the Age of Steam series at the moment.  But who knows? If readers like them enough, I'd love to write more.
4. Where can I find you/meet you/have you sign my book?  If you're in the Portland, Oregon area, you can catch me TONIGHT at Powell's Books in Beaverton at 7:oo pm.  I'll sign books, read from DEAD IRON if you want me to, and generally just hang out and have a good time.