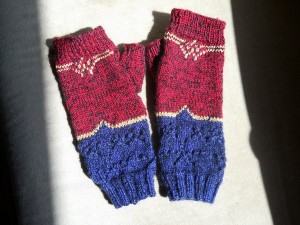 Well….I didn't write the pattern as I went. I would need to knit another glove to recreate an actual pattern.  And I won't have time for that until next year.  A couple people have asked me to post the basics of how I constructed the glove.  So here we go!
Just to be clear, this is a guideline not a pattern.
Yarn: Spud & Chloe Fine sock, superwash 80% wool, 20% silk –  Red Hot & Snorkel
Cascade Yarns Alpaca Lace –  Black
Gold metallic – cotton
Needles: US #2 dpn
Guidelines:
Cast on 42 sts holding blue and black yarn together. Join in the round.
Knit  2×2 rib (knit two, purl two) for cuff
Lace pattern:
Stars and Stripes Socks by Knit Picks Design Team – Kerin Dimeler Laurence
Use just the large star and two small star chart, (14 stitch row) repeat chart three times to make 3 large stars and 6 small stars around cuff
K 2 rounds
Increase 10 stitches
Begin gold band at wrist by holding two strands of gold together, and create "V" pointing upward.  Gold band should be two rounds thick and encircle the wrist.
Color work (blue and black held together, two strands of gold held together, and red and black held together) to transition to upper part of glove.
Knit several rounds with red and black held together.  Begin thumb increases on each round. I used the increase from Contempo by Machelle Salmeen because the yarn over holes look really nice with the lace in the cuff.  Once thumb increases are finished (I think it was seven yo rounds, so maybe 14 rounds all together), hold thumb stitches aside, and continue knitting glove until you're ready to begin the "W" pattern in gold with two strands of gold held together.
Begin the "W" Wonder Woman pattern in gold. "W" pattern is only one round thick for each stitch (unlike gold band at wrist that is two rounds thick for each stitch) "W pattern reaches across the back of the hand, but doesn't continue around to the palm. There is one row of red and black between the "W" of the "W" pattern.
Finish "W" pattern and finish glove with 2×2 rib (knit two, purl two) with red and black.
Pick up five stitches at thumb.  Knit thumb for two rounds, then finish with 1×1 ribbing (knit one, purl one).  Your Wonder Gloves are now complete!