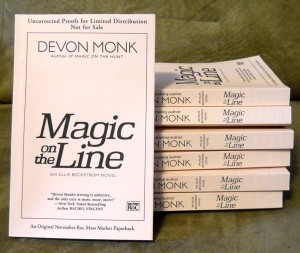 Look what came in the mail!  ARCs of MAGIC ON THE LINE!!!
MAGIC ON THE LINE won't be out until November.  But I am going to give away SEVEN advance reading copies right now, and I will ship internationally!
Remember, this will be full of typos and won't have a pretty cover since it's an uncorrected proof. However, it DOES have an excerpt from MAGIC WITHOUT MERCY at the end, and that book won't even be out until April 2012.
If you want MAGIC ON THE LINE early (and hey, free!) just leave a comment here on my blog.  I usually open this up to Facebook and Live Journal, but I'm having a hard time keeping track of entries.  If I can get all the comments in one spot, I'll be able to make sure I get them mailed out to everyone in a timely manner.
Giveaway ENDS Wednesday, August 31st before midnight, I'll post the winners after midnight.