I'm going to Texas!  I'll be signing DEAD IRON (and the Allie Beckstrom series) at Murder By The Book on July 6th at 6:30 pm.  Here are some of the nifty things I'll be wearing: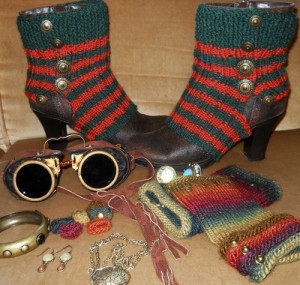 Those are the steampunk fingerless gloves I knitted, and the goggles I modded. I found the boots cheap at the thrift store, and knitted up a pair of spats.  Super easy pattern by Zoe Bogner (free on Ravelry) that I modified just a little.  The spats are so versatile, I think I'll make bunches in different colors and styles.
I'll try to tweet and get photos of the event.  I'm so excited!  I sure hope people actually show up!!!