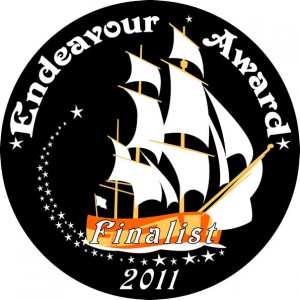 I received some really good news!  My short story collection, A CUP OF NORMAL is a finalist for the Endeavour Awards.
Here's a little bit about the award:
The Endeavour Award for a distinguished SCIENCE FICTION or FANTASY BOOK written by a Pacific Northwest author or authors and published in the previous year.
The award represents a collaboration between writers and fans of Science Fiction and Fantasy to encourage the growth of literature in the field and recognize works of excellence. It is named for H.M. Bark Endeavour, the ship of Northwest explorer Capt. James Cook.
The winner will be announced at Orycon in Portland, Oregon November 2011.  
This year's finalists are:
A Cup of Normal by Devon Monk
The Bards of Bone Plain by Patricia McKillip
Black Prism by Brent Weeks
Dreadnought by Cherie Priest
Silver Borne by Patricia Briggs
I can't tell you how honored I am to be on the list with such amazing writers.  Thank you, Endeavour Awards Committee and readers!