Now THIS is a great way to start the week!  Publishers Weekly gave DEAD IRON a starred review!!!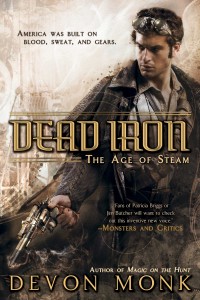 ★ A complex and extraordinary world is brought to life as bestselling author Monk's dips into the steampunk genre in this series debut. In the small town of Hallelujah, Oregon Cedar Hunt earns his way by tracking down beasts and lost items. When a small boy goes missing, Cedar is determined to find him. He enlists the help of the Madder brothers, crazy mountain-men devisers who invent amazing contraptions. In return for their help, Cedar must find the Holder, a mysterious machine that can open the door between this world and that of the Strange, where unearthly creatures roam. The Holder is in the hands of railroad big-wig and all-round evil doer, Shard LeFel, who needs the device to end his earthly torment. Powerful and action packed, Monk's pacing is hypnotic, sending the reader into a Wild West that is as wired as it is weird. Keenly crafted characters and a deftly depicted landscape make this an absolute must read for fans of either Monk or steampunk. (July)
If you'd like a signed copy of DEAD IRON, here are a  few opportunities to catch up with me:
1. I will be attending the first annual GEARCON, in Portland, Oregon July 22-24th (Yes! That's THIS weekend!)  Catch me in the hall, at a ball, or anywhere else, and I'd be happy to sign or heck, just hang out and chat.
2. I will be SIGNING at Powell's Books in Beaverton on August 2, 2011 at 7pm. Remember, Powells will let you pre-order a signed book and will mail it to you anywhere in the world!
3. I believe there are a few signed copies left at Murder By The Book in Houston, Texas. Murder By The Book will also mail signed copies anywhere in the world!