In a word: awesome!  In pictures (of which I have none, lol) check out Lili's post on the Deadline Dames and Ilona's post on her blog.
As always, I was amazed by Peter's and his crew's generosity and thoughtfulness in putting the event together.  Lili, Ilona, and Gordon are fabulous and kind, and so much fun.  They totally pwned the (excellent) questions asked by audience members.
I'm going to be honest with you here.  I didn't expect so many people to come by to have ME sign books!  My last book, MAGIC ON THE HUNT has been out since April.  I thought there might be a person or two, a book or two, but I was totally surprised and humbled by people actually bringing up stacks of my books, or buying the first in my series to give it a try. Thank you, THANK YOU, readers!  You rock!
True to my word, those who had my books, got the sample chapter and a half from MAGIC ON THE LINE.  Funny story on that–the title on the sample chapter was wrong! (woe to my copy editing skills!)  So the samples were lovingly hand-corrected on the spot by the author herself.  (heh)
So many people mentioned they are looking forward to reading DEAD IRON, and after consulting a couple readers who were in line, I have decided to post a snippet of DEAD IRON every Friday until July.  That means the first snippet will be posted tomorrow.
As for the signing, I will remember the evening as a blur of smiles, books, the names Winter and Summer, the book seller ladies, a lovely yarn gift, laughter, a zombie gnome,  lots of talking, great questions, and posing for photos.
I will remember talking shop with Ilona, Gordon, and Lili, watching the Andrews sign until their hands nearly fell off, and then feeling so sorry for their wrists that by the end of the event, I couldn't bear to ask them to sign the two books I bought, so I only asked them to sign the one I will be giving away on my blog.
Which brings me to this:
Wanna win a signed copy of MAGIC SLAYS?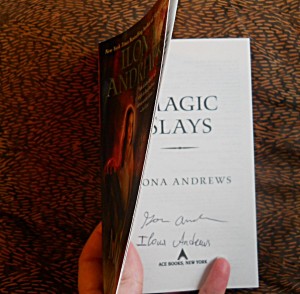 Leave a comment, where ever you are reading this (Blog, Live Journal, Facebook, etc.) And I will draw a winner Sunday June 5th before midnight PST.  I will mail internationally.