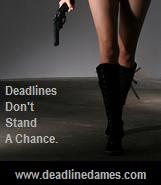 Every Tuesday over on the Deadline Dames, Jackie Kessler and I post a list of newly released books.  Today was my turn to post, and can I just say, wow!
Since the Deadline Dames are nine authors who write urban fantasy, paranormal romance, young adult, and a wee bit of steampunk on the side, I always try to post books and anthologies that fall into those general categories.
If you're looking for something new to read, there are a lot of great choices this week.
I am currently between books and feel the need to hit the bookstore.  What are you reading right now?  Got any suggestions for me?