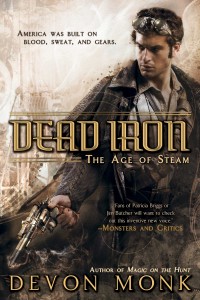 Dead Iron is coming out next week! Next. Week.
My first steampunk novel will be in the wild world on July 5th, looking for readers who like a tale filled with monsters and magic, guns and gears, heroes and heartbreak, all wrapped up in a bit of old west steam wonderment.
I am, predictably, terrified and excited and hopeful, as I am with most new releases.  I really loved writing this book and have so many plans for the characters and the world.  As a matter of fact, I'm working on book 2 right this very minute (well, not THIS minute, but you know THAT minute) and can't wait to see how it all turns out.
To celebrate the almost release, I am giving away five copies of Dead Iron! This is a short turn-around contest, so I can get them mailed and on your doorstep by release day.  Ready?
Just leave a comment about any old thing–book you're reading, vacation you're taking, movie you're watching, things you're doing this fine summertime–on my blog, or Facebook, or LiveJournal.
I will pull 3 (three) US only winners Thursday midnight PST, and post the winners' names. I will immediately mail Dead Iron in such a way that it will arrive by the 5th (I know we have a pesky holiday on the 4th with no mail service, but I think I can get it to land on your doorstep on the 5th if I make quick like a bunny to the post office on Friday.)  To get it in time, you'll need to give me your mailing address as soon as you can.
I will pull 2 (two) international winners, but cannot get Dead Iron to you by release day.  🙁  I will mail it as soon as I get your address though.
That's FIVE copies of Dead Iron up for grabs!  Okay.  You know what to do….go, go, go!