One of the cool and weird things about writing a series is that several things can be happening with several books at once. It's like each book is living in its own time zone.

Here is the current state of the Allie Beckstrom books:
Tomorrow, May 31st, I will be signing copies of MAGIC ON THE HUNT, the 6th book in the Allie Beckstrom series.  I'll be at Powell's Books in Beaverton, along with Lili St. Crow, and Ilona and Gordon Andrews. Hope to see some of you there!
A couple days ago I finished and turned in copy edits for MAGIC ON THE LINE, which is the 7th book in the Allie Beckstrom series.  I'll see that book one more time for page proofs, then it will be ready for printing and will hit the shelves November 1st.
I also looked over the back cover copy of the next Allie Beckstrom book.  That is the book I am currently writing, the 8th in the Allie Beckstrom series. It will be on the shelves in April 2012.  Oh! We have a title for book 8:
MAGIC WITHOUT MERCY
The series so far, in order:
1. Magic to the Bone  2. Magic in the Blood  3. Magic in the Shadows  4. Magic on the Storm  5. Magic at the Gate  6. Magic on the Hunt  7. Magic on the Line  8. Magic without Mercy
Pretty cool, huh? 🙂
I also just received the gorgeous cover for the audio book of MAGIC TO THE BONE, the 1st book in the Allie Beckstrom series, which will be out from Tantor Audio June 13th.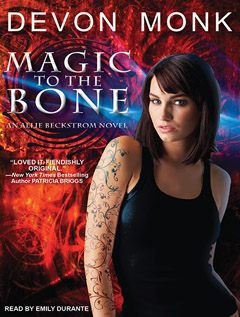 What do you think about the cover?   I love it!
But even though the books are all living in different time zones, I'm still just living in one.  Today, my time zone is all about writing book 8, Magic without Mercy.  There are a lot of exciting twists and scary bits in this book and I can't wait to see how it all turns out!