My wonderful sister started a book club and invited family and friends to join. Since I've never been a part of a book club, I said yes right away, hoping I'd have the chance to read and discuss books I might otherwise not pick up when browsing the bookstore.
Over the last year, we have had a blast. Each of us has widely different taste in books. Some of us blow through a book a day. Some of us have never been habitual readers. Our basic plan of action is to choose books that span as many genres as possible, with the caveat that it's okay if you can't finish the darned thing.
Here's what we read this month: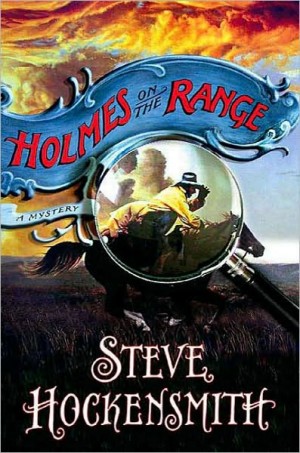 Every member of our club loved it.  Since this book received our rare all-thumbs-up rave review, (the last to do so was Janet Evanovich's ONE FOR THE MONEY) I thought I'd give it a shout out here.
If you like Sherlock Holmes, if you've never read Sherlock Holmes, if you like westerns, if you've never read westerns, if you like mysteries, if you never read mysteries, if you like funny books, and good dialogue, and a fast read, give it a try.  I certainly think you won't be disappointed.
From the back cover:
1893 is a tough year in Montana, and any job is a good job. When Big Red and Old Red Amlingmeyer sign on as ranch hands at the secretive Bar-VR cattle spread, they're not expecting much more than hard work, bad pay, and a comfortable campfire around which they can enjoy their favorite pastime: scouring Harper's Weekly for stories about the famous Sherlock Holmes. When another ranch hand turns up in an outhouse with a bullet in his brain, Old Red sees the perfect opportunity to put his Holmes-inspired detective talents to work and solve the case. Big Red, like it or not (and mostly he does not), is along for the wild ride in this clever, compelling, and completely one-of-a-kind mystery.