I just finished knitting a gift I had hoped to have done by Christmas (yes, LAST Christmas.  Things have been…busy.)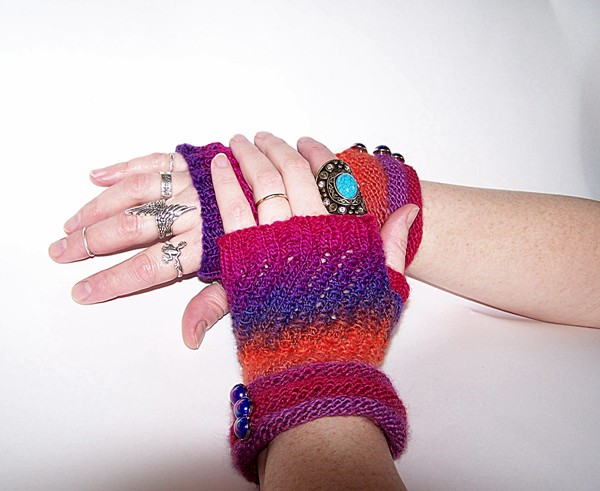 These are a combination of the Leela pattern by Zehava Jacobs on Ravelry (you will have to join Ravelry to access to their patterns–but it's free to join!)
and Contempo by Machelle at Chopped Tomatoes Design Kitchen.
I used one skein of Mini Mochi, Flame, (80% merino wool, 20% nylon) on US #3 dpns.  I love the Mini Mochi because it is SO SOFT and still washable and comes in fabulous colors.
One of the things I like about the Contempo pattern is that it looks awesome in a solid color–I made a pair in powder blue for myself a couple years ago and they are gorgeous–but as you can see, there is still a nice stitch definition with the Flame colorway.
I think I owe four people fingerless gloves, lol.  So you'll probably (I hope) see several finished and different patterns from me in the next couple months as I get them done.
But now, it's time for writing (book #8 of the Allie Beckstrom series) and coffee.  Lots of coffee. 😉