Thank you all for leaving a comment to win an ARC of MAGIC ON THE HUNT!   I am excited about your excitement!!  I tallied all the comments on my blog, Facebook, and LiveJournal, and here are our winners:
Miranda who said: "I can't wait for the book to come out! I'm so excited! :D"
Jennzahling who said: "WANT! WANT WANT! !! 🙂
Jessica Rodgers who said: "Sweet. Awesome series."
Winners, please contact me at devonmonk AT gmail DOT com with your mailing address and I will get these in the mail to you right away.
For anyone who didn't win this time around–no worries.  I plan to do more giveaways when I get my author copies in hand and might have a couple other fun little tricks up my sleeve.   So stay tuned!!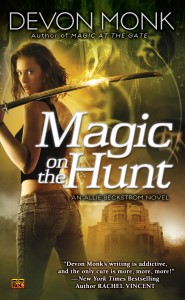 APRIL 5, 2011