MAGIC ON TH HUNT comes out April 5th–in only a month and three days!
But I have three advanced reader copies of MAGIC ON THE HUNT to give away now!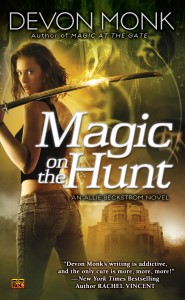 They don't have the pretty cover.  🙁
They are the unproofed copy so they do have typos! 🙂
I will mail them internationally. 😀
To make this SUPER easy, just leave a comment here (where ever you're reading this: my blog, facebook, livejournal, or, perhaps the moon) and I will put your name in a hat and draw winners one week from today, Wednesday March 9th, sometime before midnight PST.
Good luck!!