I'm terribly late posting this weeks' snippet from MAGIC ON THE HUNT.  I'm having a hard time finding small bits that don't give away too many plot points.  So today's fragment is just a small snippet with Allie and Zayvion.
I have, however, been a busy knitter.  I made my second Stone (and I think I've fixed the pattern, more on that soon).  Here he is, Stone #2: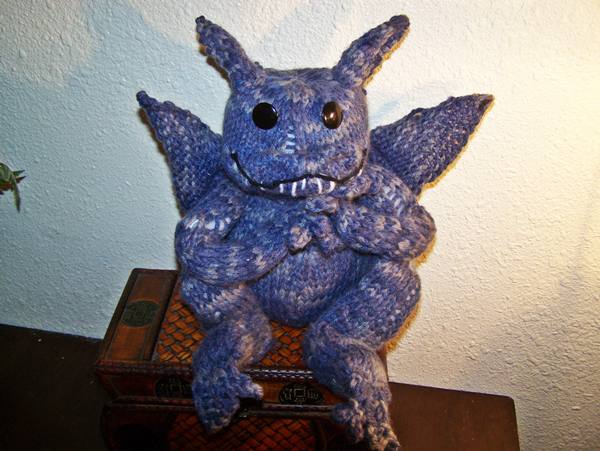 He's bigger than Stone #1.  A pic for size comparison: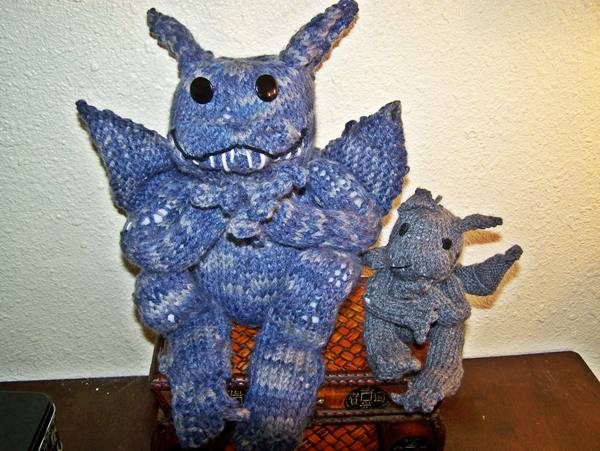 And he is bendier and has nostrils, and is more huggable, and is an all around good gargoyle buddy.
I will be holding a contest to give Stone #2 away SOON.  Yes!  YOU could have your very own gargoyle!!  More on that later, so stay tuned!
For now, here is your (very, very late) Friday Fragment from MAGIC ON THE HUNT, which will be in stores April 5th.
Hope you enjoy!!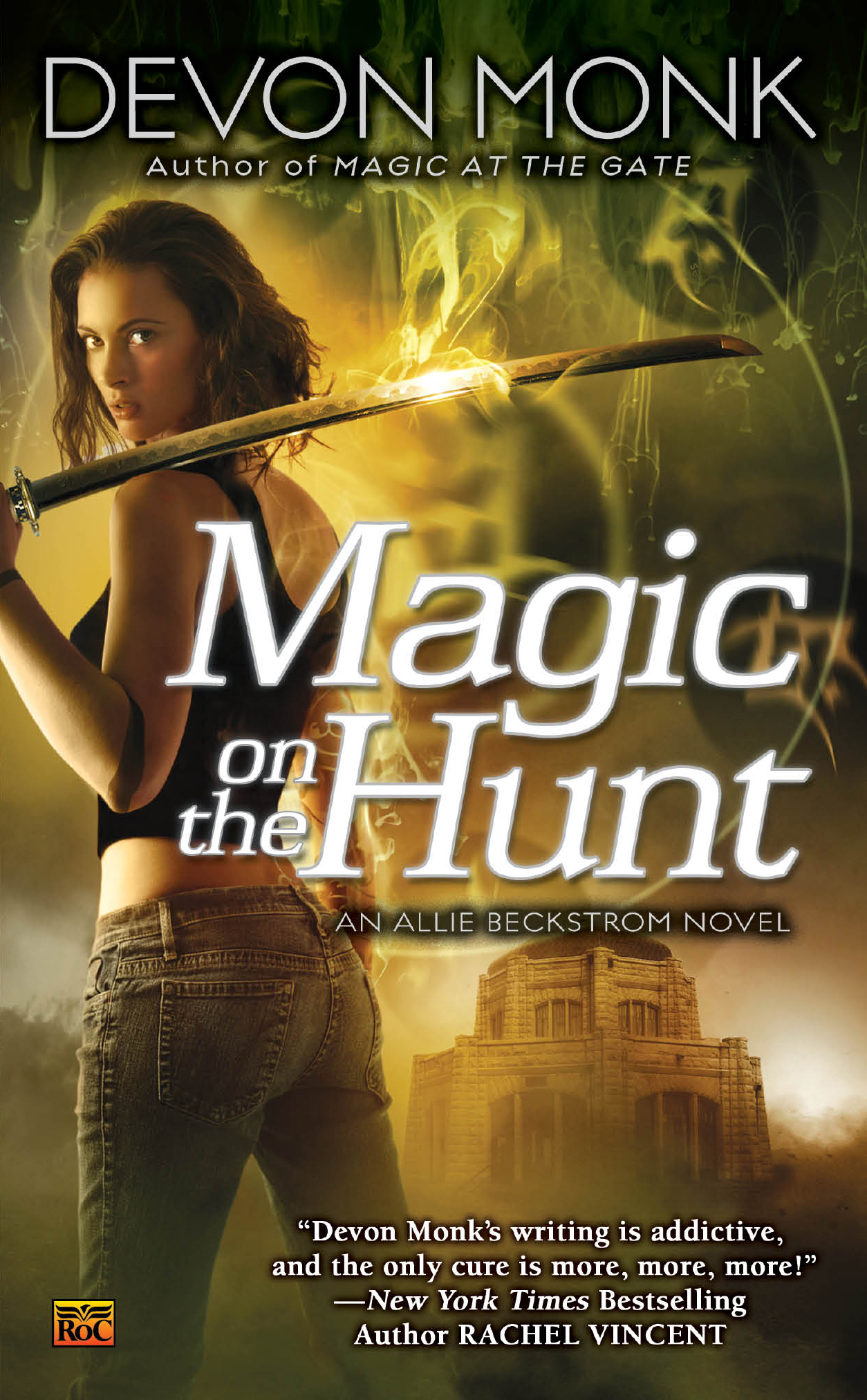 *****
I heard a sound behind me. Zay stood in the kitchen doorway, rivulets of water tracking down his jaw and shoulder. I loved it when he didn't wear a shirt.  He always wore clothes that hid the width of his shoulders and disguised the thick muscles of his arms, chest, and tight, six-pack stomach. But seeing him without his  shirt on today just showed me  how bruised and swollen he still was.
They had beat the crap out of him. Anger scorched through my mind. I was going to kick Dane's ass for that.
"Little help?" Zay held up the roll of elastic bandage.
"Do you want to sit?"
"It'd be easier if I stand."
I took the bandage and started at the top of his rib cage, my hands shaking a little. Not from nerves—from anger. "That too tight?"
"No."
I got to the bottom, tucked the end of the wrap under the last round, and set the little hook. I rested my hands on his hips, bent, and kissed the exposed skin just above his waistband.
"Mmm." He opened his arms, and I straightened and folded myself against him, trying not to hold him too tight, wishing he weren't hurting. Wishing Dane had never gotten in my apartment. Wishing I knew where Dane and his men were so I could show them what I could do with a crowbar.
"Coffee's done," he said against my hair.
"Nola's waiting for us." I leaned back so I could look at him. "Please take a painkiller."
"I did." He reached out, tucked my hair back behind my ear. "I'm fine."
"Liar."
"No," he said, tucking the hair back behind my other ear. "It's the truth. I'm breathing, there's a cup of coffee in my near future, and a beautiful woman in my arms. What more could a man ask for?"
"Revenge."
He smiled, and there was an entirely different look in his eyes. "Oh, I'll get that too."
I stepped back. "Promise you'll let me watch?"
"Front-row seat." He kissed me, just one hot brush of his mouth against mine.