Friday Fragments are my way of counting down to the release of MAGIC ON THE HUNT on April 5th.  Every Friday (unless I'm late, like this week!) I'll post an excerpt or deleted snippet or alternate scene from the Allie Beckstrom books.
Today's scene is from MAGIC ON THE HUNT.  I don't think there's really anything spoilery about it, but if you want to click away, now's your chance.  Thank you for stopping by!
…
…
…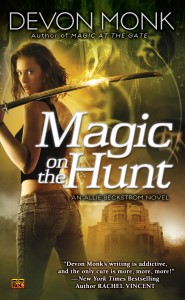 Ok, so let me set the scene.  Allie has just had a meeting with the Hounds, and hired them to do a little footwork for her.  She and Davy are at the den, and the rest of the Hounds have just left.
*****
I took the sign off the door, crumpled it, and stuffed it in my jacket pocket. By the time I hit the stairs, everyone else had already taken either the elevator or the stairs. At the lobby, there was only one person waiting. Davy. He grinned.
"This is going to be the easiest five thousand I've ever made."
"I hope so," I said.
We headed out. My phone rang. Zay. Again.
Seriously, couldn't the man catch a hint?
I answered. "Beckstrom."
"Where's everyone off to?"
I scanned the streets. Zay was standing on the corner across the street, Shamus behind him, leaning against the building, smoking.
Oh, for Pete's sake.
"Nowhere."
"That so? Looks like you've got a hunt on your hands."
"It was a meeting."
He started across the street. The light hadn't changed, but somehow traffic seemed to move in rhythm to his stride, a perfect path opening up as he moved across the street toward me, not once taking his eyes off me. Man walked like a goddamned god.
"Who are they hunting? What are they hunting? What are you up to, Allison, my love?"
He was across three lanes, one more before he was in front of me. That is, if a bus didn't hit him.
"None of your damn business," I said sweetly into the phone.
And then he was there, in my space, so close, I could smell the pine and anger rolling off him. He was power, magic, sex, raw, brute force. A thunderstorm embodied.
I gave him a disinterested look.
The corner of his lip quirked up.
"How about I say please?" he said into his phone even though there was less than six inches separating us.
"Hound business is Hound business," I replied.
"Don't make me drag it out of Davy."
"Fuck you," Davy laughed. "I'm not your girlfriend."
Zay put his phone down. Thumbed it off. "Who are you hunting, girlfriend?"