MAGIC ON THE HUNT will be in stores in eight weeks!  Instead of doing a countdown or some such, I thought it might be cool to post  unpublished snippets every Friday.
Now mind you, these fragments aren't polished for publication and aren't long scenes.  But I think they're kind of fun to read.
Today I ran across an alternate scene from MAGIC AT THE GATE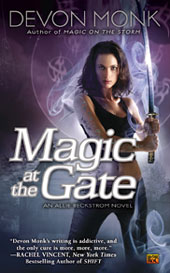 If you haven't read MAGIC AT THE GATE, this is probably where you'll want to stop reading this blog post, 'cause I'm about to get all spoilery.  Thanks for stopping by today!  Hope you have a lovely weekend.
…..
…..
…..
All right, now that they're gone, here we go.  In MAGIC AT THE GATE, Allie has to step into death to save Zayvion's soul.  When she steps out of death with Zayvion's soul in Stone, she lands in St. Johns and Detective Paul Stotts finds her there.
I wasn't sure if I wanted it to be Stotts who found her, or Davy Silvers, the Hound who is always following her.  So I tried the scene first with Davy finding her:
"Is this some kind of sick scavenger hunt?" he asked.
"It's a mistake," I said.  "I have to get him to Maeve Flynn's place.  Her inn.  In Vancouver."
"I know where it is."  He frowned.  Looked over at Stone, who wasn't moving much.  Looked back at me.
"Can you walk?"
"Yes."
"I don't know how we're going to carry that." He pointed at Stone.
"It will walk."
Davy flashed me a quick smile.  "Of course it will.  And I just bought a pound of flying bacon this morning."
I gave him the dirtiest look I could manage, and held my hand out for him.  Davy took my hand. He did more than me to get me standing.  I locked my knees.
"Shit," I whispered.  There was a ringing in my ears, and it had nothing to do with my dead dad in my head.  I was very close to passing out. Dark sparkly static was closing in on my vision.
Davy tightened his grip on me, his arm around my waist, my arm over his shoulder.  "I'm not seeing a lot of walking going on," he said.
I lifted my foot, put it in front of me.  Did the same with the next foot.
"Think you can make it to the car?"
I didn't waste time answering.
Davy stiffened.  "Son of a bitch."
I didn't know what was happening.  Davy stopped, so I did too.  Stone trotted up next to me and made a raspy sound.  He grumbled like a bag of rocks, then cooed louder, like he had just figured out how to make that noise.  He swiveled his head to look up at Davy and me, cooed again victoriously, then trotted off toward the parking lot.
"How you like your bacon now?" I mumbled.

I liked the scene, and thought it worked pretty well.  But when I tried it with Stotts, it all fell together in a much more dramatic and interesting manner.  Plus, by having Stotts finds her, it nicely set up the next scene with him witnessing them trying to get Zayvion's soul out of Stone and back into Zay's body.
So the Davy scene was cut and the Stotts scene was a go.
Thanks for reading this Friday's fragment!  I'll have another bit up next Friday.  Maybe an excerpt of what Zayvion was doing while he was in death.  Or maybe a kissing scene.  Or something with Shamus.  Who knows what I'll find when I start digging.  🙂