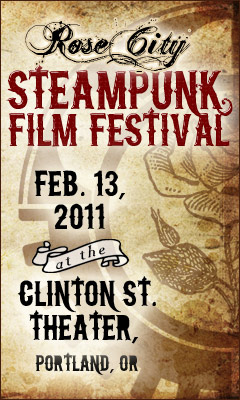 I am very excited!  I am going to my very first steampunk film festival!  It is a ten hour event of all things steampunkian, including  films, music,  local merchants, and a local author panel and signing.
Authors:
Meljean Brook
M. K. Hobson
Jay Lake
Andrew Mayer
Devon Monk
Merchants:
Black Wing Arts — masks & other sculpted leatherwork
gb Designs
— ray guns, props, & costumes GPB Jewelery — steampunk & recycled jewelery
Scissorfiend
– historical fashion, millinery, & corsetry
SteamBaby
– goggles & accessories
Taken By The Sky
— historical costuming & corsets
Tormented Artifacts
— masks, accessories, art prints, & esoterica
Films/entertainment:
Child Invisible
"Cup of Brown Joy" music video by Professor Elemental
The Danger Element: Episode 1
Every Storm Has an End
The Fabulous World of Jules Verne
The Forgotten Invention of Love
The Halsteadarian
"Heart of Stone" music video by The Raveonettes
An omnibus of shorts by
The League of S.T.E.A.M.
Machine
McDonough
Nickel Children
Steampunk in Oxford
Succumb
Tempus Ex Machina
The Tesla Experiment
Virus
"Written in Stone" music video by Moth
If you've ever wondered what, exactly, steampunk is, I have a good feeling this event will more than satisfy your curiosity.  And if you're in the area, I sure hope you'll come join us for the fun!