The other day I mentioned there is a yarn store within walking distance of my house and just a block or so away from that is a doughnut shop.  How have I not visited these fine establishments?  How have I ignored them for so long?  It's shameful, I tell you.  Criminally so.
I promised myself I would take a nice healthy walk to check out the yarn store and hey, since I was in the neighborhood, I'd go the little extra to pick up some doughnuts too.
Today, I took that walk!  Even though it was sprinkling.  Even though I was tired.  Even though the cold wind was uh…blowing cold.
Don't believe me? Let me present photographic proof!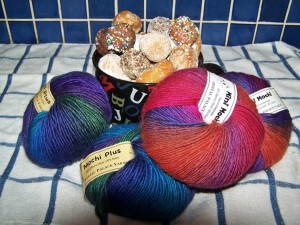 The yarn is lush and wonderful and will be used for a couple gifts I owe friends. The doughnuts are for…um…I'm saving them for….uh….never mind. The doughnuts are gone. 🙂