Welcome To My Worlds
I write the Allie Beckstrom urban fantasy series…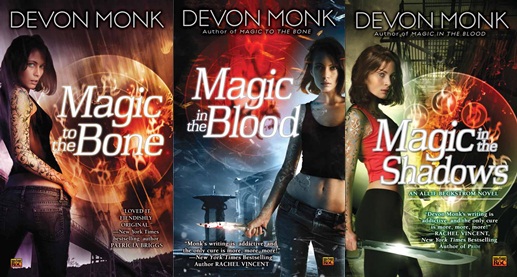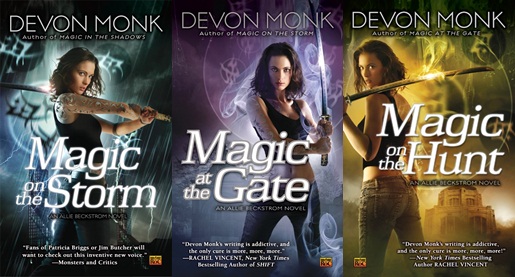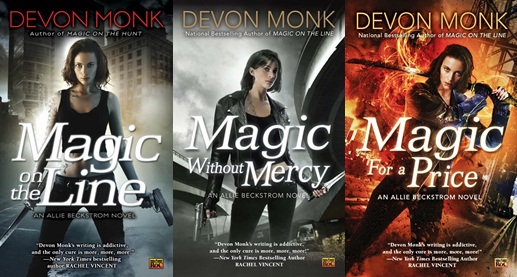 …the Age of Steam steampunk series.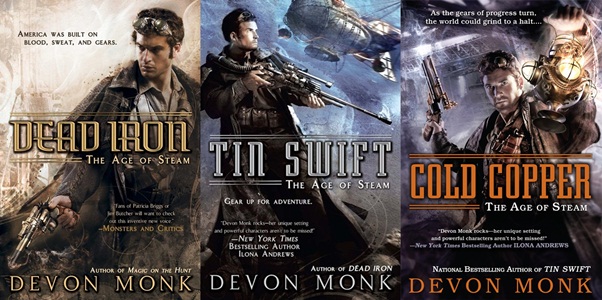 …and the Broken Magic urban fantasy series.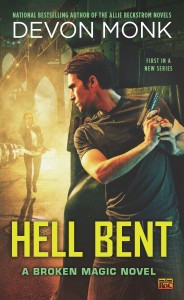 I also write science fiction and fantasy short stories…
…drink too much coffee, and knit silly things.
Herein you'll find book excerpts, wits and pieces about my writing life, and even a free knitting pattern or two. Please make yourself comfortable and take a look around. Thanks for coming by!
***
Latest Release – urban fantasy
Release date: November 6, 2012
But everything was not normal. Not at all. We were about to enter a war with two of the most powerful creatures who had ever used magic. And we were nowhere near ready for this fight.
For most of her life, Allison Beckstrom has used magic and accepted the heavy price it exacts. But now that all magic is poisoned, it's no longer just using people–it's killing them.
With Portland about to descend into chaos, Allie needs to find a way to purify the wells of tainted magic beneath the city. But the only options left to her are grim: attempt to close down magic forever or follow her father's plan to get magic into the right hands–even though she's learned never to trust his word.
Now Allie will have to make a choice and face the darkness of her deepest fears before time runs out for them all…
Read MAGIC FOR A PRICE excerpt here
 Upcoming:
Cold Copper – The Age of Steam steampunk series –
July 2, 2013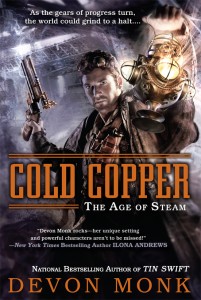 In steam age America, men, monsters, machines, and magic battle to claim the same scrap of earth and sky. In this madness, one man struggles to keep his humanity, his honor, and his hell-bent mission intact….
Bounty hunter and lycanthrope Cedar Hunt vowed to track down all seven pieces of the Holder—a strange device capable of deadly destruction. And, accompanied by witch Mae Lindson and the capricious Madder brothers, he sets out to do just that. But the crew is forced to take refuge in the frontier town of Des Moines, Iowa, when a glacial storm stops them in their tracks. The town, under mayor Killian Vosbrough, is ruled with an iron fist—and plagued by the steely Strange, creatures that pour through the streets like the unshuttered wind.
But Cedar soon learns that Vosbrough is mining cold copper for the cataclysmic generators he's manufacturing deep beneath Des Moines, bringing the search for the Holder to a halt. Chipping through ice, snow, and bone-chilling bewitchment to expose a dangerous plot, Cedar must stop Vosbrough and his scheme to rule the land and sky….
Hell Bent – The Broken Magic urban fantasy series –
November 5, 2013

Instead of the deadly force it once was, magic is now a useless novelty. But not for Shame Flynn and Terric Conley, "breakers" who have the gift for reverting magic back to its full-throttle power. In the magic-dense city of Portland, Oregon, keeping a low profile means keeping their gifts quiet. After three years of dealing with disgruntled magic users, Shame and Terric have had enough of politics, petty magic, and, frankly, each other. It's time to call it quits.
When the government discovers the breakers' secret—and its potential as a weapon—Shame and Terric suddenly become wanted men, the only ones who can stop the deadly gift from landing in the wrong hands. If only a pair of those wrong hands didn't belong to a drop-dead-gorgeous assassin Shame is falling for as if it were the end of the world. And if he gets too close to her, it very well could be….